New White Paper: Improving Campus Chilled Water Systems
Recently released a new white paper by Gregor P. Henze the Department of Civil, Environmental and Architectural Engineering of the University of Colorado Boulder located in Boulder, Colorado along with Walter Henry from the Massachusetts Institute of Technology located in Cambridge, MA and Marc Thuillard of Belimo Automation AG located in Hinwil, Switzerland.
Improving Campus Chilled Water Systems with Intelligent Control Valves: A Field Study. This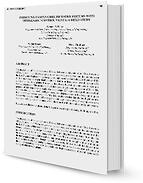 white paper details a field study conducted on two university campuses in Massachusetts and Colorado during the cooling season of 2011. The purpose of this experimental study was to alleviate ΔΤ degradation problems on both campuses through the use of intelligent pressure-independent control valves, and to quantify the improvements achieved. The Massachusetts field results revealed that the intelligent control valves when coupled with a ΔΤ management strategy have allowed the campus to serve additional cooling load on its campus with the same distribution and central plant system.

Download Now – This white paper and learn how the Belimo Energy Valve improved the campus chilled water systems.