New Belimo ZoneTight™ Zone Valves - Efficient in Every Way
Belimo Americas
is pleased to announce the release of their new ZoneTight zone valves which are designed for maximum efficiency in tight spaces. The Belimo's ZoneTight zone valve product range sets new design and performance standards for both pressure dependent and pressure independent zoning applications.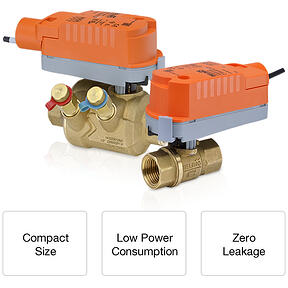 Belimo's zero leakage ball valve design eliminates energy losses and is resistant to clogging.
Low power consumption - up to 95% less than conventional zone valves.
Field adjustable flow to meet your design requirements.
Smallest pressure independent characterized ball valve in the market.
5-year warranty.
"The ZoneTight zone valves are unlike any other zone valve on the market today", states Nigel Gallimore, Product Manager. "The PIQCV not only provides reliable, pressure independent control—it offers several advantages to those who design, install, and rely on flow control equipment."
Learn more online at www.belimo.us.