The Foundation of Comfort
Belimo is excited to announce the release of new Room Sensors, which complement the existing sensor product range. The Belimo Room Sensors measure temperature, humidity, and CO₂ in a wall-mounted design offering high accuracy and fast response. The sensors are maintenance-free and provide long-term reliability for a comfortable room environment. Integrated with Near Field Communication (NFC) allows for fast programming, commissioning, and troubleshooting with the Belimo Assistant App and a smartphone. The product series consists of Temperature, Temperature with Setpoint, Temperature and Humidity, and Temperature, Humidity, and CO2. Key features include
Unique housing with a spring-loaded removable terminal block that saves wiring time and ensures reliable contact.

Humidity is output configurable as relative humidity (rH) or dew point conforming to Ashrae 62.1 to prevent humidity and moisture problems.

A low wall coupling factor provides accurate room temperature measurement that is not affected by the wall temperature.

A discrete manual push button is standard on all passive sensors.

A pc board cover plate which offers additional protection from mechanical damage, dust, and vibration.

Self-calibrating dual-channel CO₂ technology beneficial for buildings occupied 24/7.

NFC allows fast programming, commissioning, and troubleshooting.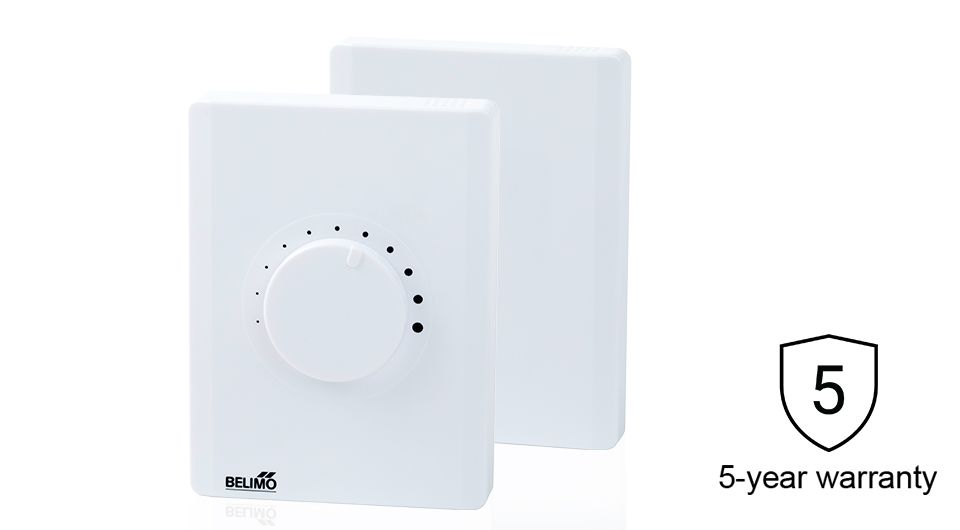 Industry standard signal outputs allow seamless integration to third-party control systems. Passive temperature sensor models include 1000 ohm platinum and three common negative temperature coefficient thermistor signals. A discrete manual override button is standard on passive models to minimize inventory and allow the DDC programmer to provide an array of HVAC sequence options. Select models are available with setpoint adjustment dial. The active sensor model signal output is selectable as 0…5/10V, 2…10V, or MP-Bus for each controlled variable including, temperature, humidity, and CO₂.
At Belimo, we continually invest in new technologies that increase customer value by improving occupant comfort, energy efficiency, simplified installation, and maintenance-free operation. Our sales team is available to consult and provide insight and advice on how to achieve the best solution to help increase your system performance. Belimo will continue to focus on delivering exceptional product availability, fast delivery times, and world-class customer service and technical support. We remain dedicated to continuously improve our standards and are committed to providing you the highest value possible.
Whatever your HVAC application, our global network of support experts are on hand and ready to assist.
Learn more about our Room Sensors online or download the Sensor Brochure.