Improving Building Performance
Belimo has released the Belimo Clear Edge™, an analytical device that leverages the data from all installed Energy Valves in a BACnet Building Automation System (BAS). It automatically analyzes the Belimo Energy Valve data to optimize, manage, and monitor key performance indicators of water coil performance and hydronic energy consumption. The Clear Edge offers trending capability with automated Delta T setpoint adjustment to increase system efficiency and energy savings strategies.

The Belimo Clear Edge provides a simplified view of the rich Energy Valve data from the BACnet network, allowing Facility Managers to improve building performance quickly. The Belimo Clear Edge technology is also available as a plug-in for SkySpark from Stackhub (www.stackhub.org).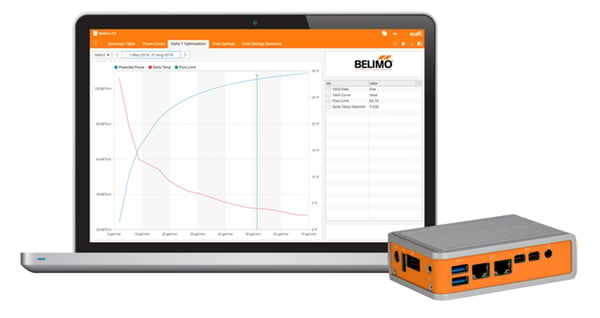 Quick Start Guide
Belimo Clear Edge Technical Document
Features and Benefits
The aggregated start screen is a tabular display of all installed Energy Valves. It offers a simplified view of Key Performance Indicators (KPI's), including BACnet object name, instance number, supply and return temperatures, Delta T, delta setpoint, flow, current energy usage, and 30 days of energy consumption.
Energy dashboard enables to input cost and kWh data, pump efficiency, and other building specific variables to provide aggregated cost and energy savings as the result of reduced pumping. Reporting is available by the day, month, quarter, and year.
Software analytics to provide the optimal Delta T and flow setpoints, which are automatically written to the Delta T Manager to save time and improve efficiency.
Scatter plots that automatically generate load profiles and flow saturation points of coil characteristics and Delta T performance.
Change parameters on installed Energy Valves individually or collectively. For example, you can change multiple flows and Delta T setpoints for winter to summer seasonal changeover.
Automatic discovery of all Energy Valves on a BACnet network can be revealed with a single click. Point mappings are created automatically, ensuring that Clear Edge has the required data to provide fast and easy analysis and optimization.
Increasing Energy Savings
The charts below are an illustration of the delta T optimization provided by the Delta T Manager.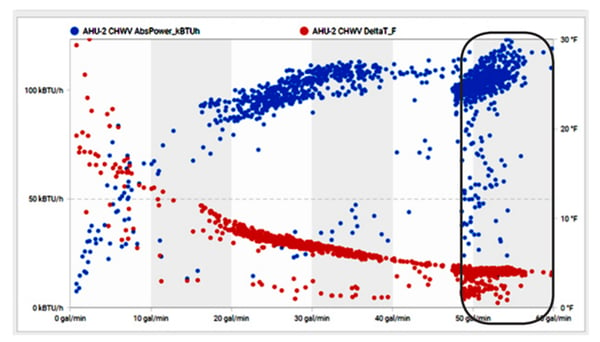 Figure 1 depicts the baseline operation with a flow range of up to 55 GPM to serve 100 kBTU/h.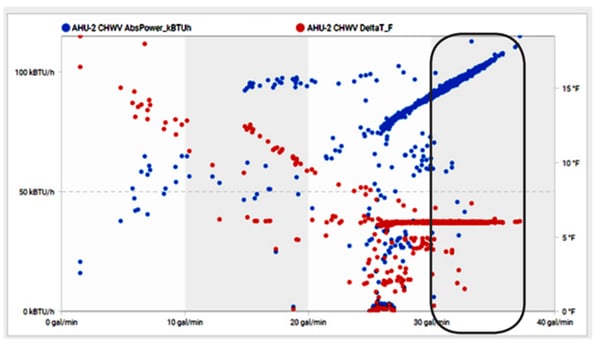 Figure 2 is the same coil with the Delta T Manager enabled. The coil can satisfy the 100 kBTU/h load with only 35 GPM. This provides a higher Delta T for the chilled water plant with a 36% savings on the pumping system.

To learn more about Belimo Clear Edge, download this brochure or to purchase, contact Belimo at +1 800-543-9038.