Belimo Energy Valve Helps Red Wing School District Increase Energy Efficiency
Located in Goodhue County, Minnesota, on the western bank of the Mississippi River, the Red Wing Public School District is a model of energy efficiency in the educational sector. Over the last two decades, Red Wing has made a substantial commitment to environmental stewardship and sustainability – leveraging the latest and greatest building technologies to reduce energy consumption and enhance the learning environment for its 2,700+ students. With the Belimo Energy Valves installed across the district, Belimo played an essential role in helping Red Wing achieve its sustainability goals. The Energy Valves help facility personnel optimize Delta T and HVAC system water usage and with cloud connectivity, the district can capitalize on the many benefits afforded by the Internet of Things (IoT).
The Belimo Energy Valve utilizes advanced analytic technology while leveraging captured system data to improve coil and system performance achieving increased energy savings. With cloud access, it is unlike any other product on the market today.
Delta T Optimization and Flow Setpoints can be updated remotely or automatically to save time and improve efficiency.
Glycol Monitoring utilizes an embedded temperature sensor, ultrasonic technology, and advanced logic algorithms to monitor the percentage of glycol content in the system. Glycol monitoring provides you with the knowledge to optimize heat transfer and pumping efficiency, reducing operating costs and the risk of freezing.
Lifetime Secure Data Access is a single consolidated repository that stores and provides system data access for future optimization.
Online Tech Support with Belimo's industry-leading technical support team is available to assist you remotely.
Software Updates provides you the latest software, and security updates automatically for maximum productivity and reliability.
Extended Warranty from 5-year warranty increased to 7-year with Belimo cloud connection.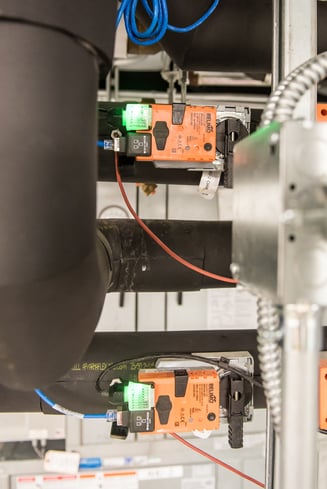 Over the last two years, a large part of Red Wing's efforts has focused on optimizing Delta T and water flows across air handlers in the buildings' chilled water loops and hot water loops served by condensing boilers. They have turned to the Belimo Energy Valve and installed 109 valves across three buildings, with all of the valves connected to the Belimo Cloud.
Multiple engineering firms crunched the energy savings numbers for the facility the payback period for installing the Energy Valves worked out to be less than two years. The custom rebate provided by Xcel Energy was able to cover partially the costs of the controls, VFDs, and the valves themselves.
Energy savings from the Energy Valve are derived mainly from reducing water flow across coils. This is a benefit made possible by the patented Belimo Delta T Manager™, which monitors coil performance and optimizes the available energy of the coil by maintaining Delta T.
The overall benefits that were experienced:
Increased pumping efficiency and reduced energy consumption by optimizing Delta T and reducing flow across the heating and chilled water coils.
Reduction of pumping requirements and associated costs.\Improved visibility into the operation of air handlers, chilled water coils, and energy flows across facilities with cloud connectivity.
Continuous monitors and compares against other valves operating under similar conditions.
Quarterly energy reports providing data on trends, energy, and performance KPIs.
Facility experienced improved occupant comfort.
Maintained the correct glycol concentration to increase overall heat transfer and pumping efficiency, while reducing operating cost and mitigating the risk of problems that can lead to a loss of comfort.
The Belimo Energy Valve played an integral role in helping the school district to achieve efficiency gains by optimizing Delta T and reducing pumping costs. For Red Wing, every dollar they save on utility bills is additional funding they can put toward improving their learning environment.
Download the Red Wing Case Study to learn more.