ASHRAE Global Headquarters HVAC Design to Provide Comfort, Transparency, and Energy Efficiency
ASHRAE's newly renovated global headquarters in Peachtree Corners, Ga., will showcase the latest HVAC equipment and technology offered by Belimo. The building includes design and renovation updates to achieve a net-zero energy-efficient workplace environment.
Flow Management for Heat Recovery Chiller
The HVAC system uses one air-cooled heat recovery chiller to supply chilled and hot water flow to the three-story 67,000-square foot building. The chilled water bypass regulates flow using two electronic pressure independent valves (ePIV) for dynamic balancing and true flow measurement, providing comfort and energy efficiency with BACnet integration to the building automation system (BAS). Nine 2-way butterfly valves control the primary/secondary pump isolation. They feature self-adjusting end stops to ensure zero leakage, with handy visual position indicators offering the latest in butterfly valve technology. Two Energy Valves provide flow and energy monitoring with Delta T management capabilities while providing data transparency from the BAS integration.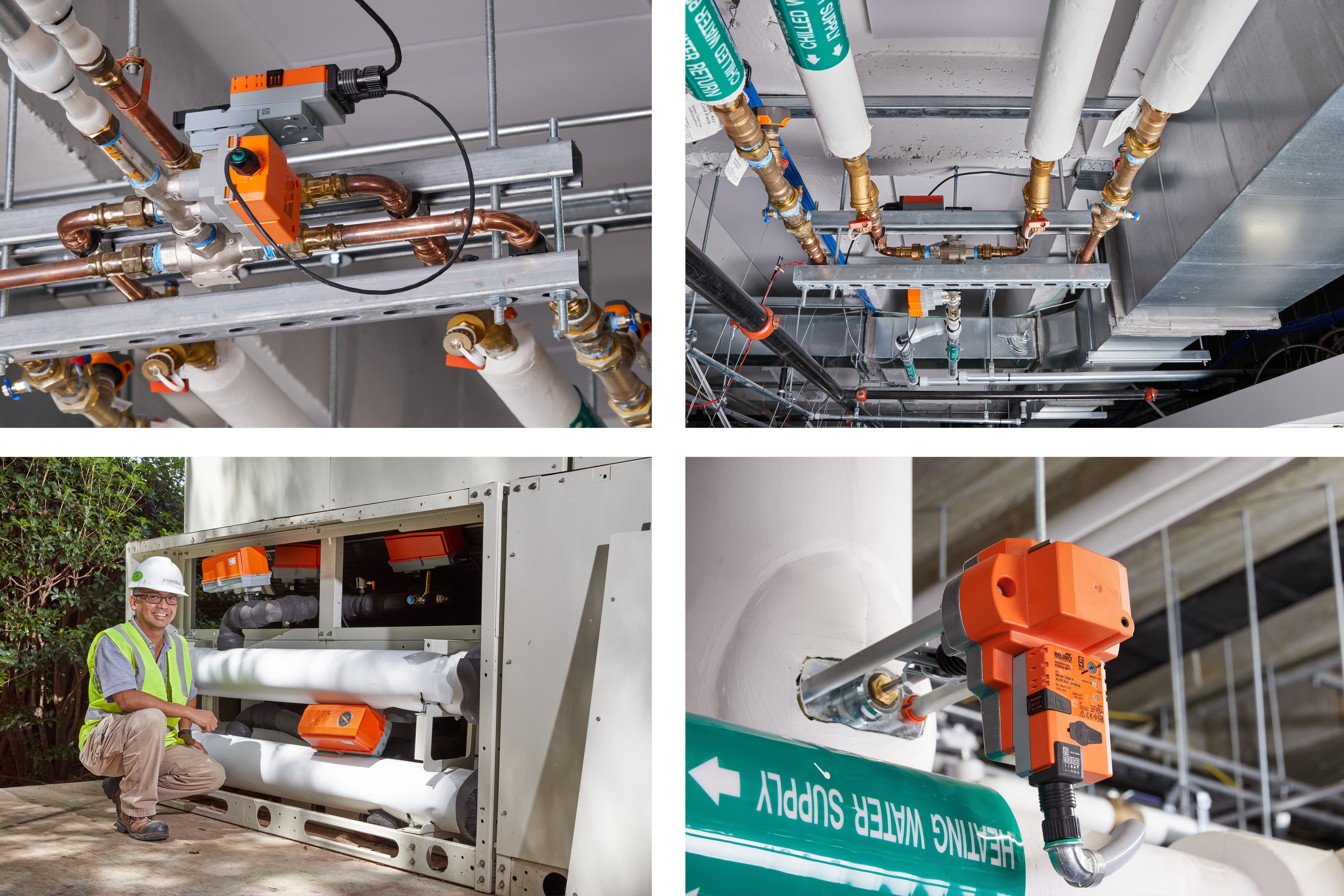 Hydronic Cooling and Heating Load Regulation
The two-story building, including a partial basement, is designed for 145 occupants with a serviceable life of at least 50 years and 20 years for HVAC components. The building occupant's thermal comfort relies on the heating and cooling modes from 79 radiant panels controlled by 6-way ePIVs. The valves feature a single analog input to control both heating and cooling to simplify the DDC system. They also provide true flow readings, dynamic balancing regardless of pressure fluctuations in the system, and seamless integration via BACnet. The six water-sourced heat pumps with energy-saving coil isolation provided by two 2-way ePIVs control flow regardless of pressure.
BACnet Integration
The BAS uses the BACnet communication protocol complying with ASHRAE Standard 135, a Data Communication Protocol for Building Automation and Control Networks. It integrates coil flow and other performance data from the
butterfly valves
, ePIVs, and
Energy Valves
. The devices offer seamless data integration to the BAS for trending, trouble and alarm indication, and remote device network management.
Optimized Hydronic Performance
Energy Valves and ePIVs are pressure independent (PI) control valves, designed to stabilize variable flow hydronic systems for a lifetime of efficiency and worry-free, dynamic balancing. Pressure independent valves maintain the design water flow to the coil and are not affected by pressure fluctuations in the system. By controlling the flow precisely, the PI valves eliminate the need for balancing valves, thus reducing installation costs. The most significant benefit comes in the form of energy savings by eliminating overflow through the coil. Overflow wastes pumping energy and is the leading cause of low Delta T syndrome
in chilled water systems.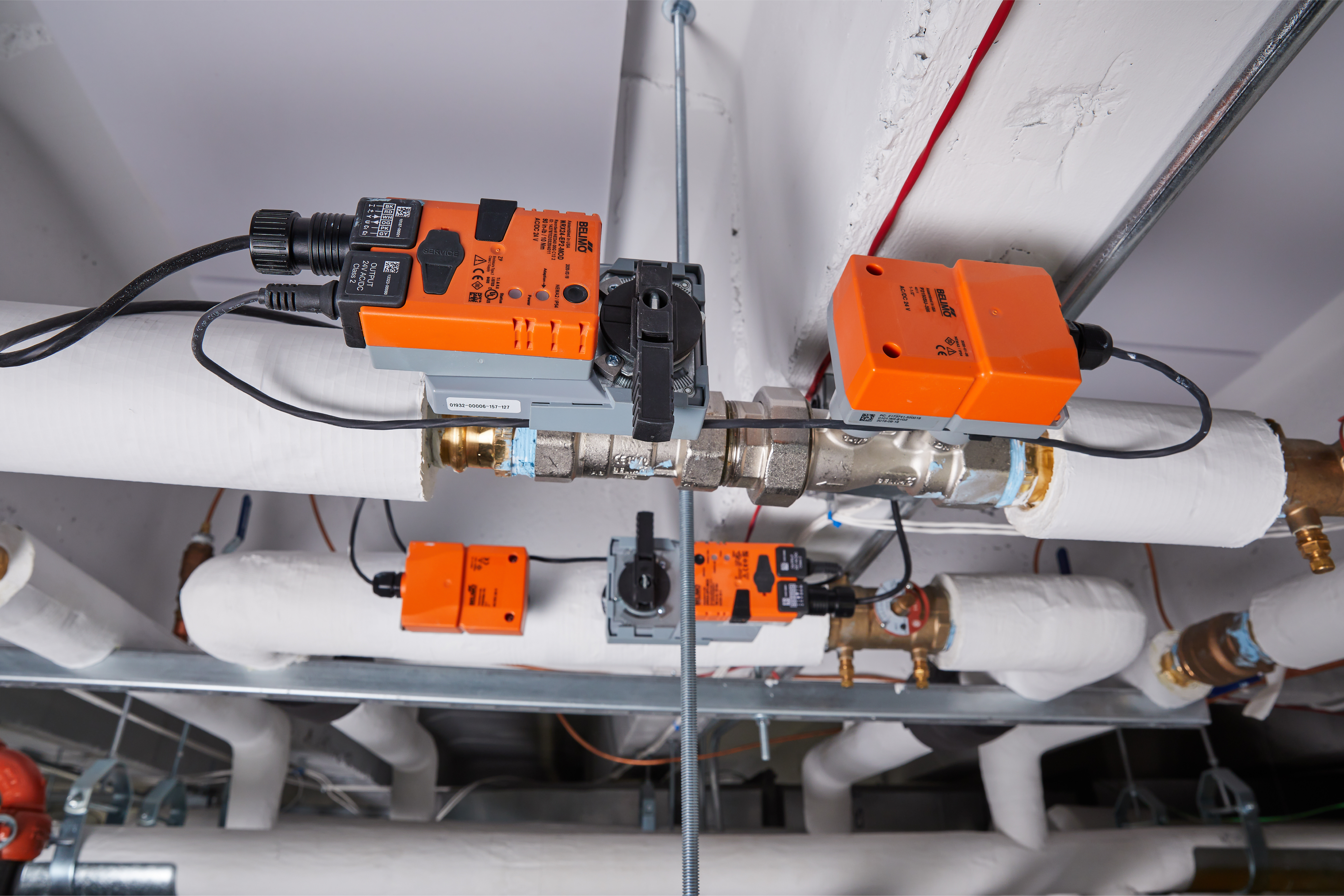 The Belimo Energy Valve™ is an IoT-capable device using advanced cloud-based analytics to monitor and leverage captured system data to the full potential providing superior savings and the most efficient operation. The Energy Valve measures hydronic performance by using an embedded ultrasonic flow meter and supply and return water temperature sensors. The glycol monitoring feature provides accurate, repeatable flow measurement and ensures glycol content meets design requirements. BACnet connectivity over the BAS improves system transparency to achieve design requirements, occupant comfort,
and energy savings goals.
The Belimo Clear Edge™ is an analytical device that leverages hydronic energy consumption data from all installed Energy Valves in a BACnet BAS to optimize, manage, and monitor key performance indicators. Performance improvement opportunities are securely identified without an internet connection.
The 2-way ePIV features an integrated electronic flow meter and a powerful control algorithm to maintain true flow setpoint regardless of system pressure variations. High close-off pressure and zero leakage eliminate "ghost energy" losses in the system.
The 6-way ePIV is designed for radiant ceiling panels, chilled beams, and 4-pipe fan coil units providing true flow and dynamic balancing. It has the functionality of up to four 2-way control valves and two balancing valves. A single analog output controls both heating and cooling to simplify the DDC system. The 6-way ePIV provides zero leakage to save energy, reduces material and installation costs, and offers easy commissioning with flow measurement and verification.
Intelligent Isolation
The resilient seated butterfly valves are designed specifically for HVAC applications for use in ANSI pipe systems requiring zero leakage. The self-adjusting end stop algorithm ensures zero leakage at 200 psi close-off. The patented brushless DC motor technology reduces energy consumption by up to 80% and provides optimal system performance. Near Field Communication (NFC) and BACnet communication provide superior application data access for troubleshooting, commissioning, and programming.

With world-class field-level devices installed, ASHRAE headquarters will perform to its full potential.