What are the components of an Electronic Pressure Independent Valve?
An Electronic Pressure Independent Valve (EPIV) combines a characterized ball valve, flow meter with patented glycol compensation, high-performance actuator, and flow control logic into one device. The meter's flow measurement data is collected and displayed via analog interfaces or digital communication through Belimo MP-Bus, BACnet, or Modbus. Measuring data provides valuable information to the building management system and gives insight into the hydronic system.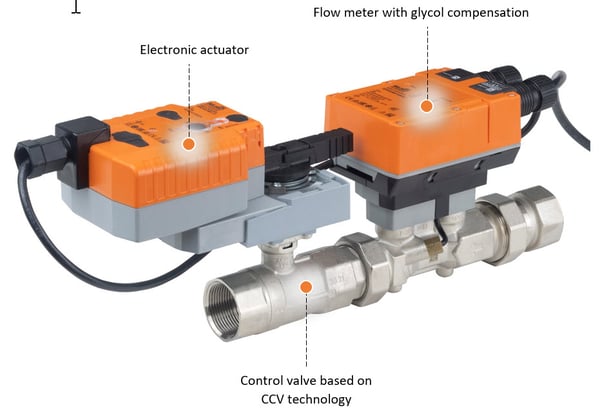 The EPIV technology is similar to a pressure independent Variable Air Volume (VAV) terminal unit used on airside applications. The control signal is interpreted into a flow setpoint that delivers the required flow using algorithms incorporated into the smart valve. The positioning logic within the electronic valve is key to controlling pressure and flow accurately. The valve position is within 1% of the required flow and will remain at that position until the flow value is outside its internal control tolerance of 5%. This prevents continuous movement of the actuator, as minor pressure variations are typically removed by the system before the valve must correct its flow by changing position. EPIVs require a differential pressure within a specific range, like mechanical pressure independent valves. EPIVs maintain pressure independence at a significantly lower differential pressure depending on the flow requirement. The flow measurement and control remain accurate to 1% of the nominal flow, eliminating the regulator's need to work.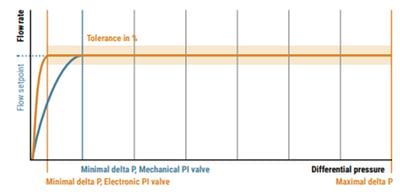 > Discover the complete range of pressure independent valve technology from the PIQCV, a super compact PI valve, EPIV an electronic PI valve offering true flow measurement to the Energy Valve that optimizes, documents, and proves water coil performance.