Energy Efficient Indoor Air Quality
Airside Economizing is a great way to reduce operating costs; it also provides the correct ratio of outside air and return air to deliver the proper indoor air quality (IAQ) to meet the codes and ensure occupant comfort. Studies have shown that up to 70% of economizers are not functioning correctly. Many times economizer systems are set up incorrectly or are left to operate in factory default mode. Many failures go undetected, costing building owners unnecessary expense and energy standards and building IAQ requirements are not met.
The ZIP Economizer with BACnet capability gets efficiency strategies back on track with easy setup, automatic code change over temperatures, and superior troubleshooting capability. The ZIP's BACnet objects will allow facility managers to configure the economizer logic and control parameters, monitor its performance through the Building Management System (BMS), and gain valuable insight into the equipment's operation.

The ZIP is the most technologically advanced airside economizer solution in the market. It is developed to allow for smooth user interaction when setting up or troubleshooting economizer systems and rooftop units. It offers 75 BACnet data points available over the BMS to facilitate custom control sequences to provide enhanced system performance and troubleshooting details.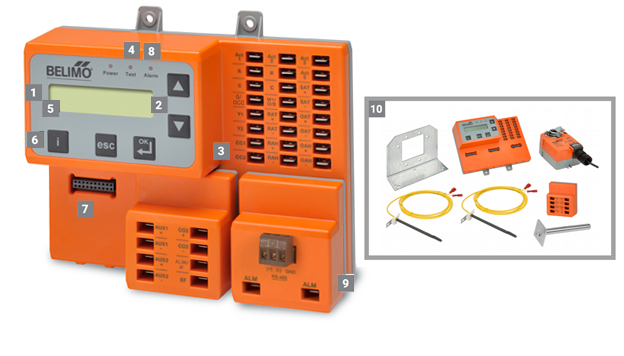 1. Easy-to-read LCD delivers clear live status information, easy setup, changes, and operating history with easy navigation.
2. ZIP Code patented technology; by simply entering your ZIP code or Canadian postal code, the system will automatically recognize your climate zone and will set the high limit change over temperature providing automatic compliance.
3. Plug and play with its self-configuration, if it's not plugged into the economizer, you won't have to worry about setting it up.
4. Integrated onboard acceptance test sequence that ensures effortless compliance with California Title 24 and verifies proper operation.
5. Fault Detection and Diagnostics (FDD) to troubleshoot faults, initiates alarms and reconfigures for best operation.
6. Onboard information, the first and only economizer control that integrates built-in help for setup or troubleshooting.
7. Modular design capable of adding remote communication and or energy savings strategies on the same footprint.
8. Alarm notification instantly reports a problem and addresses it.
9. Integration of BACnet MS/TP communication capability provides the Building Management System (BMS) operators flexibility with economizer logic and control parameters available over the buildings' communication bus.
10. Belimo ZIP Packs are a packaged solution to efficiently retrofit non-functioning economizers and get systems back on track quickly. The ZIP Packs meet the latest energy standards and building IAQ requirements.

The ZIP is compliant with the recent energy codes and standards (ASHRAE 90.1, IECC, California Title 24, ASHRAE 189.1).

Learn more online.