Coming Soon! Belimo New ZIP Economizer the Fast Route to Reliable Energy Savings
Until now, economizing solutions have left a lot of room for error. The ZIP Economizer gets efficiency strategies back on track with easy setup, automatic code change over temperatures, and superior trouble shooting capability. Users know instantly when failures occur and the ZIP helps them quickly pinpoint the problem and address it. With the following features, the ZIP leaves nothing to chance:
Easy-to-read Automotive Grade LCD Display.

Extremely simple to navigate, this display delivers clear live status information, easy setup, changes, and operating history.

ZIP Code Patented Technology. By simply entering your US
zip code, or Canadian postal code, the system will automatically
recognize your climate zone and will set the high limit change over
temperature providing automatic compliance.
Plug and Play.

With its self configuration, if it's not plugged into the economizer, you won't have to worry about setting it up.

Acceptance Tests.

Integrated onboard test sequence that ensures effortless compliance with California Title 24, and verification of proper operation.

Fault Detection and Diagnostics (FDD).

Troubleshoot faults, initiates alarms, and reconfigures for best operation.

Onboard Information.

First and only economizer control that integrates onboard help for setup or troubleshooting.

Modular Design.

Flexible design capable of adding remote communication and or energy savings strategies on the same footprint.
Easiest and Smartest Way to Save Energy.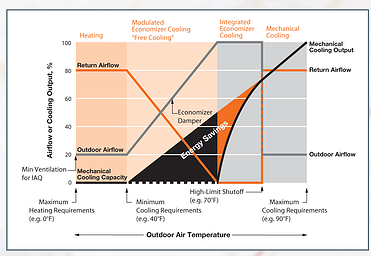 It is an established fact airside economizing (using outdoor air as a cooling medium when conditions are suitable) is one of the smartest ways for buildings to save energy. But setting up controls to match the specific climate profiles and code requirements of different regions usually involves a cumbersome set of tasks.

The ZIP Economizer makes it easy. We've already built in all the relevant climate zone and energy code data, so simply by entering in your ZIP code you automatically maximize energy savings for your location! The ZIP code entry also automatically sets up economizer operation for compliance with all of the following codes and standards. You don't need to look up a thing!

ASHRAE 90.1 - Energy Standard for Buildings Except Low-Rise Residential Buildings

IECC – International Energy Conservation Code

CALIFORNIA TITLE 24 – California Building Energy Efficiency Standard

NECB – National Energy Code of Canada for Buildings