New EF Spring Return Actuator - When One is Enough.
The EF - the most powerful of its kind.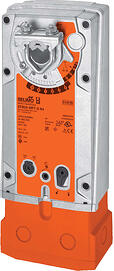 The EF actuator utilizes rugged components in a pressure cast aluminum housing for added strength and reliability. It offers a high torque output of 270 in-lbs and a NEMA 4 option to meet tough environmental conditions found in many HVAC applications.
The EF actuator was developed to satisfy high torque applications with a single actuator.The EF can take the place of two classic AF actuators in a piggy-back mounted application; simplifying wiring and mounting requirements while reducing material and installation costs.The NEMA 4 protection feature allows complete access to change the direction of rotation and allows locking or manually overriding the actuator.
The EF offers easy installation, commissioning and connects to high torque applications with a complete line of accessories. Dual EF mounting on a single shaft is possible for higher torque. The EF series spring return actuators are available in basic models offering 24 or 120 VAC and faster run times with MFT models. NEMA 4 versions come with integrated junction box providing faster and easier installation. MFT versions provide the flexibility to program the actuator in the field for various proportional control functions and DC voltage feedback signals.
Custom models provide the option of appliance or plenum cable in various lengths (EFX NEMA 2 models only). MFT models offer many proportional control functions and DC voltage feedback signals that can come programmed from the factory or adjusted in the field.
All standard -S models come with two auxiliary switches: one fixed @ 10°, one adjustable from 10° to 85°. All NEMA 4 -S models come with two fixed switches, one @ 10° and the other @ 85°.
The EF provides a cost effective and flexible solution that will deliver years of dependable performance over a wide range of operating conditions.
> Take a look inside the EF