Pressure Sensors Optimize Building Performance
HVAC system performance and comfort rely on accurate measurement and control of differential pressure. Effective air distribution is achieved by closely monitoring and controlling air pressure. By monitoring the airflow pressure across dampers, filters, fans, and between rooms, the HVAC system can efficiently and economically optimize building performance and reduce energy consumption.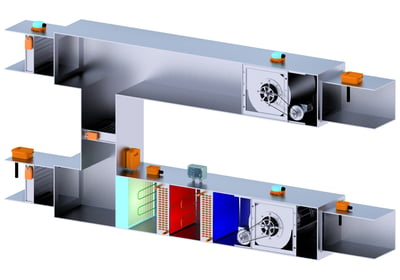 Sensors from Belimo offer superior reliability, easy installation and commissioning, and seamless integration.
Belimo pressure sensors are designed for air applications with a focus on low pressure for high accuracy, stability and zero drift for critical environmental applications.with major Building Automation Systems (BAS). They are the result of over four decades of experience, research, and a focus on providing value-adding technologies.
Belimo differential air pressure sensors feature:
Eight field selectable pressure ranges in one unit helping to reduce inventory and support on-site range selection

Excellent zero-point stability and high accuracy ensuring optimal performance and repeatability.

Optional true auto-zero calibration ensures all measurements are accurate and drift free, no need for manual maintenance or on-site visits

Modbus communication protocol provides superior application data access and enables easy commissioning and parameterization

Snap-on housing allowing for quick installation and easy commissioning

Modular conduit fitting enables various mounting and cable configurations to meet a variety of applications

Spring-loaded removable terminal block creates a connection that offers resistance to vibration and maximum pull-out force, saving time during wiring and ensuring contact reliability

Output protection provides reverse-polarity protection, which minimizes the risk of damage caused by incorrect wiring

Detachable mounting plate designed as a drill template for easy and faster installation

NEMA 4X / IP65 and UL compliance enclosure tested to withstand harsh indoor and outdoor conditions, including exposure to dirt, dust, humidity, condensation, rain, and snow

Accurate and reliable readings backed with a 5-year warranty