Sensors are the Foundation for Occupant Comfort
In HVAC systems, sensors measure controlled variables of temperature, humidity, pressure, and air quality. Sensor inputs connect to the Direct Digital Control (DDC) system and network to the Building Automation System (BAS). High quality sensors are the foundation for ensuring occupant health and comfort and are essential for energy efficiency within buildings.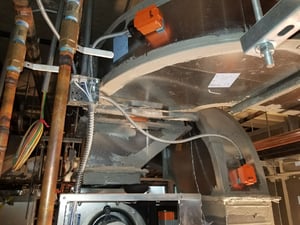 The Rocky Mountain Institute (RMI) states "The buildings in which we work, live, learn, and play threaten our climate, our economy, and our health while also posing an increasing financial risk to owners and investors. As the biggest consumers of power, buildings can literally make or break the critical transition to a low-carbon energy future." RMI also states that buildings consume 35% of the global energy and 60% of the generated electricity.
"An increase of 1 percent in productivity can nearly offset a company's entire annual energy cost", was stated in the report "Greening the Building and the Bottom Line" authored by personnel from the U.S. Department of Energy and the RMI.
Sensors are the perfect complement to actuators and valves optimizing energy efficiency and system performance. Belimo sensors seamlessly integrate into building automation systems (BAS). The universal enclosure design, intuitive screwless snap cover, and detachable mounting plate make installation and commissioning easy. With a focus on quality, the Belimo sensors carry a five-year warranty, conform to NEMA 4X and IP65 requirements, are UL compliant, and backed by world-class service and support. The Belimo sensor offerings include single and multi-range: temperature, humidity, pressure, CO2, VOC's (Volatile Organic Compounds), and flow sensors for pipe, duct, and outdoor applications.
"Belimo sensors not only deliver reliable and accurate readings," states David Alliband, Manager, Sensor Solutions, " The universal enclosure design offers customers reduced product selection and inventory levels and also feature a modular ½" conduit fitting and spring loaded terminal block for ease of installation and commissioning."
Sensor product offerings:

Temperature
Variety of output signals: passive NTC, RTD, 0-5/10 VDC, 4 to 20 mA
Sintered moisture protection coating on duct, immersion, and cable sensors protecting against condensation, mechanical stress, and vibrations
Humidity
Complementary Metal Oxide Semiconductor (CMOS) based polymer-capacitance sensor with an accuracy of ±2% relative humidity as standard and long-term drift of <±0.25% not affected by high moisture and contaminants
Multi-sensor with selectable output measurement values of relative humidity, absolute humidity, enthalpy, and dew point
Air Quality
Dual channel self-calibrating CO2 sensor based on NDIR technology allowing effective compensation of long-term drift providing precise accuracy and long-term stability
Integrated temperature, humidity, and VOC sensors for building applications that require sensors with multi-functional capabilities
Pressure
Capable of measuring extremely high and low pressures
Precise measurement and reliable monitoring of pressure, differential pressure, and velocity
Selectable measuring ranges for application flexibility
True auto-zero calibration technology
Flow
Ultrasonic transit-time technology providing accurate and repeatable flow measurement
Compact and rugged design suitable for use with chilled water, hot water, and water/glycol solutions at temperatures ranging from -4°F to +250°F [-20°C to +120°C]
The quality of the output is dependent on the quality of the input. Belimo sensors within HVAC systems are the foundation for comfort, installation efficiency, and energy savings.