The Effectiveness of Butterfly Valves and Sensors in a Hybrid Free Cooling System
Freshwater is a critical natural resource; we are all more conscious of our water consumption now more than ever. Using a hybrid or economizing cooling system can dramatically reduce annual water consumption. Hybrid cooling is a change-over application, in which either free cooling is used in cool weather conditions or cooling with a chiller is used in warm weather conditions.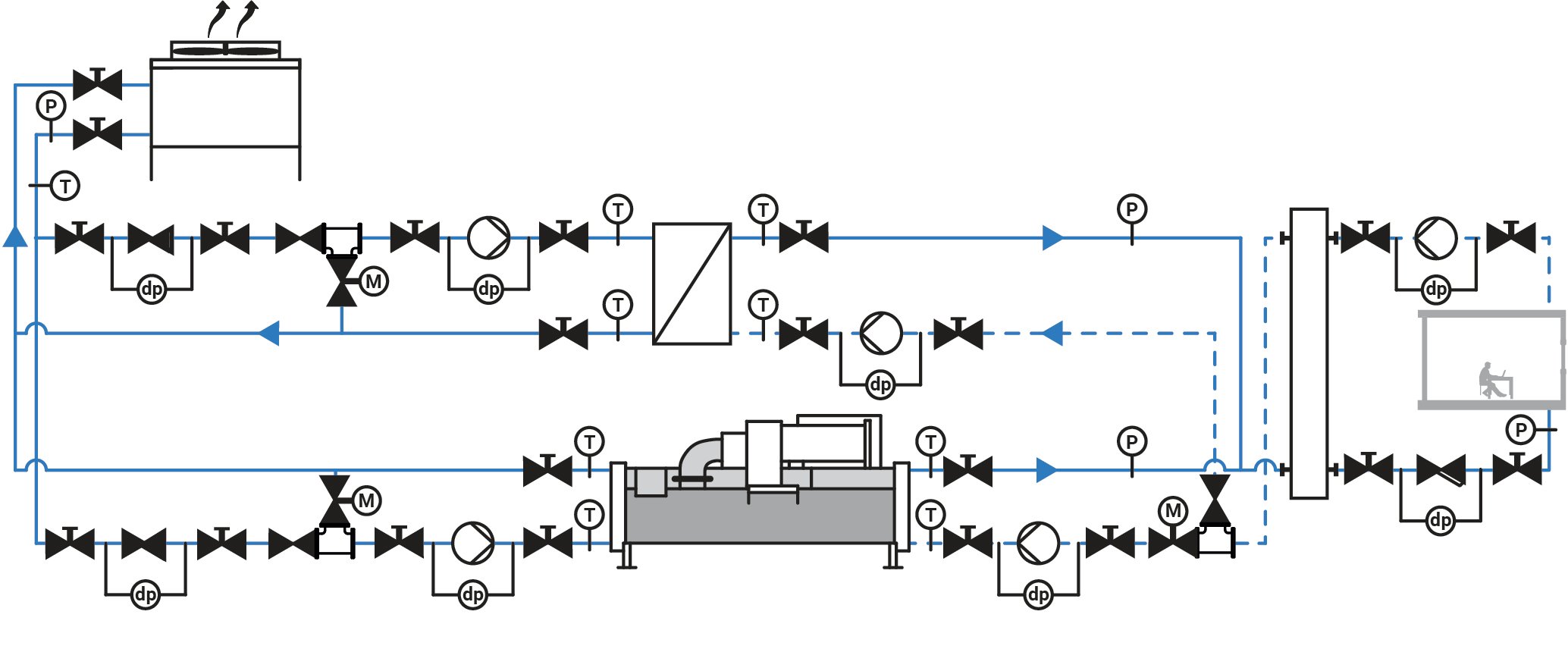 The 3-way change-over butterfly valve handles the change-over between free cooling and cooling with the chiller. Two 3-way control butterfly valves (mixing valves) control the temperatures at the heat exchanger and/or the chiller. During commissioning and maintenance, Belimo manual open/close butterfly valves with gearwheels isolate the pumps, chillers, dry cooler, and strainers. Differential pressure sensors monitor the differential pressure of the pumps to ensure the pumps are functioning and to avoid irregular operating states (cavitation, the air in the system, etc.). Differential pressure sensors monitor the strainers to detect contamination in the pipe system at an early stage. Static pressure sensors detect leakages in the system. In most cases, the volumetric flows of the generator (chiller) and consumer (usually partial load) will vary, meaning that a hydraulic separator or a buffer tank is used for the required load equalization.
The Belimo butterfly valves features and advantages are:
A tight-closing valve with a zero-leakage rating reduces energy waste.
Reduced height and weight of the actuator allow for quick and more straightforward installation.
Universal power supply with a high degree of protection (IP66 + IP67, NEMA 4) and higher close-off pressure provides a flexible design and flexibility for the isolation of chillers for indoor and outdoor applications.
Equal percentage and linear characteristic curve (configurable using the Belimo Assistant App) provide cost-effective and reliable control.
The characteristic curve for mixing and diverting with BACnet MS/TP, Modbus RTU, MP-Bus, NFC, or conventional control provides flexible and simplified setup and diagnostics and superior application data access.
A faster running time of 35 seconds (configurable between 30 and 120 seconds) enables a quicker chiller start-up for prompt cooling supply.
Belimo sensors features and advantages are: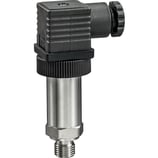 NEMA 4X / IP65 and UL compliance enclosure tested to withstand harsh indoor and outdoor conditions, including exposure to dirt, dust, humidity, condensation, rain, and snow
Spring-loaded terminal creates a connection that offers resistance to vibration and maximum pull-out force, saving time during wiring and ensuring contact reliability.
Output protection provides reverse-polarity protection, which minimizes the risk of damage caused by incorrect wiring.
A detachable mounting plate was designed to be used as a drill template for easy installation.
In a hybrid cooling application, it is possible to select from various products. Our recommendations do not replace the individual system planning and design of hydraulic components. As a rule, planning should always be accomplished in coordination with the manufacturers of chillers and pumps. Belimo butterfly valve assemblies and sensors have been specially designed and developed for HVAC applications. They are maintenance-free over their entire lifecycle and are backed with a 5-year warranty. All butterfly valve-actuator combinations with PR actuators are equipped with Near Field Communication (NFC) and enable rapid commissioning and parametrization with a smartphone and the Belimo Assistant App. The electronic fail-safe assemblies offer SuperCap technology that provides an intelligent and energy-efficient alternative to the mechanical spring return. Learn more online.