Pressure Independent Airflow Measurement & Control Actuators with Digital Communications
Belimo released standalone airflow measurement and control actuators with digital communications for rotary, linear, and induct applications. Select actuator models have pressure independent control characteristics combined with an integrated differential pressure sensor to calculate and deliver designed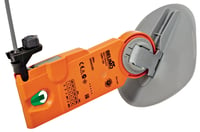 flow regardless of pressure fluctuations in the system.
The actuator communicates directly with the Building Automation System (BAS) using BACnet, Modbus, or MP-Bus. Select models offer Near Field Communication (NFC) for quick programming, commissioning, and troubleshooting, leading to optimal system performance. The actuator with industry-standard digital communications is the perfect solution for integration in constant or variable air volume systems, or open-loop applications. Learn more.

When scaling VAV boxes, parameters can be set up and installed via NFC and the Belimo Assistant App, utilizing a smartphone to communicate to the actuator. With communication protocol, BACnet, Modbus, and MP-Bus, complete actuator transparency and the operation of your system is available at all times. The Belimo Assistant App (plus a ZIP-BT-NFC converter if using an iPhone), provides on-site wireless configuration for select NFC damper actuators and valve actuators. Efficient programming, commissioning, and troubleshooting during operation are accessible whenever service is required; some characteristics include device type, position, operating data, and setting parameters. NFC provides the data access you need to ease installation and ensure optimal performance.
Display identification data: device type, position, designation, serial number, MP address

Operating data and set parameters: device-specific

Send operating and setting data directly from the system, via e-mail, WhatsApp, or SMS

Storage of operation and data sets

NFC data transmission even without the actuator being powered

Languages English, French, German, and Italian

Diagnosis page: device-specific state information




Prerequisites
Belimo actuator solution with NFC logo

ZIP-BT-NFC Converter and documentation, available from Belimo
Additional information is available from a Belimo representative or www.belimo.us