The Belimo Assistant App offers operation transparency when used in connection with Belimo VAV, damper and valve actuators that have integrated Near Field Communication. With a smartphone, the Belimo Assistant App provides fast and easy programming, commissioning and troubleshooting even without power. The App also allows you to document and send your settings and operating data via email.
The Belimo Assistant App:
Displays device type, position, designation, serial number
Access to operating data and setting parameters, device-specific
Fieldbus communication settings, device-specific
Delivers a diagnostic page to view the starts/stops and mechanical overloads for easy troubleshooting
Transmits and stores data via the Belimo Cloud, device-specific
Sends captured actuator data directly from your smartphone via e-mail, WhatsApp or SMS
Provides language options, German, English, French or Italian (DE / EN / FR / IT)
How to use the Belimo Assistant App:
To use the Belimo Assistant App, hold the smartphone right over the NFC logo located on the Belimo device.
If using an iPhone you will need to use the Belimo ZIP-BT-NFC converter. Place the converter directly on the Belimo device over the NFC logo. Hold the smartphone right over the Belimo ZIP-BT-NFC converter.
Belimo devices with NFC provide transparency to ensure system efficiency and eases installation. Additional information can be found online at www.belimo.us or contact a Belimo representative.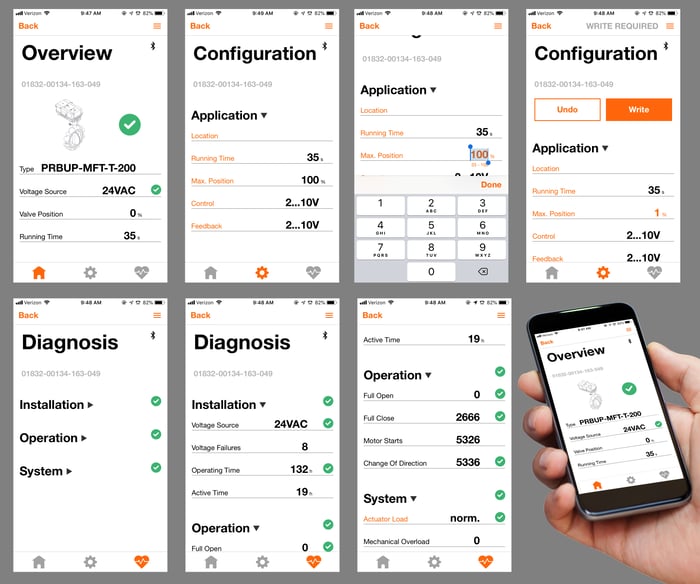 Prerequisites:
Belimo device with the NFC logo
Android smartphone with build-in NFC antenna: Android V5.0 or higher
Android smartphone without NFC: Android V5.0 plus a Belimo ZIP-BT-NFC converter
iPhone: iOS V9.0 or higher plus a Belimo ZIP-BT-NFC converter