Integrating, Controlling, Communicating
The integration of digital communication into devices and equipment provides flexibility in creating innovative HVAC solutions that can control, monitor, and/or be maintained from anywhere. Building Management System (BMS) operators benefit from device data that is easily accessible for monitoring and system control. Facility managers gain valuable insights regarding equipment operation and performance. All device data is leveraged to enable timely fault detection and assist in system diagnostics. Available information includes sensor values, control input, device position, min/max ranges, and other operational parameters.
Meeting the future needs of connected buildings, Belimo has developed intelligent controlled devices improving the installation, data transparency, and extensibility with no need for infrastructure changes. With digital connectivity, you can control, service, and optimize your building more efficiently. Belimo is empowering building operators in a connected world with flexible control.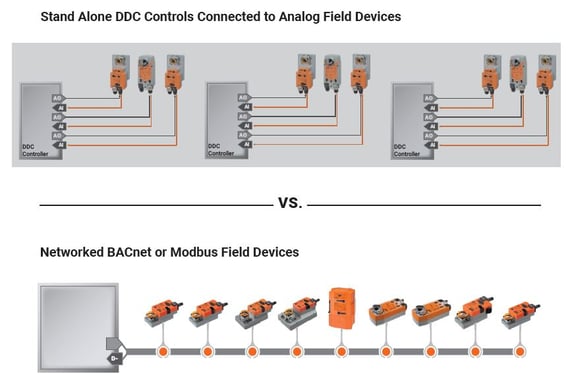 System integrators can take full advantage of Belimo field devices' flexible control with built-in BACnet or Modbus digital communication protocol. Actuators and sensors integrated directly to the Building Management System allow the system integrator to utilize existing industry software to perform all required field device setups and monitor and control connected devices. No additional hardware is required thus eliminating errors and reducing commissioning time. Expensive home-run wiring associated with traditional DDC systems connected to analog field devices is avoided. Integrating sensor data directly to the actuator reduces the wiring or sensors.
Improving Efficient Installation
Digital communicating actuators feature two auxiliary inputs for connection to an active or passive signal or dry contact. The signals are digitized in the actuator and transferred to the BMS over Modbus or BACnet. The actuator using local override control can be fully open or closed with a preset maximum value. Facility managers or service technicians can take full advantage of networked field devices to troubleshoot or make parameter adjustments. Actuator performance data can be read by the system-level controllers to make HVAC equipment more efficient.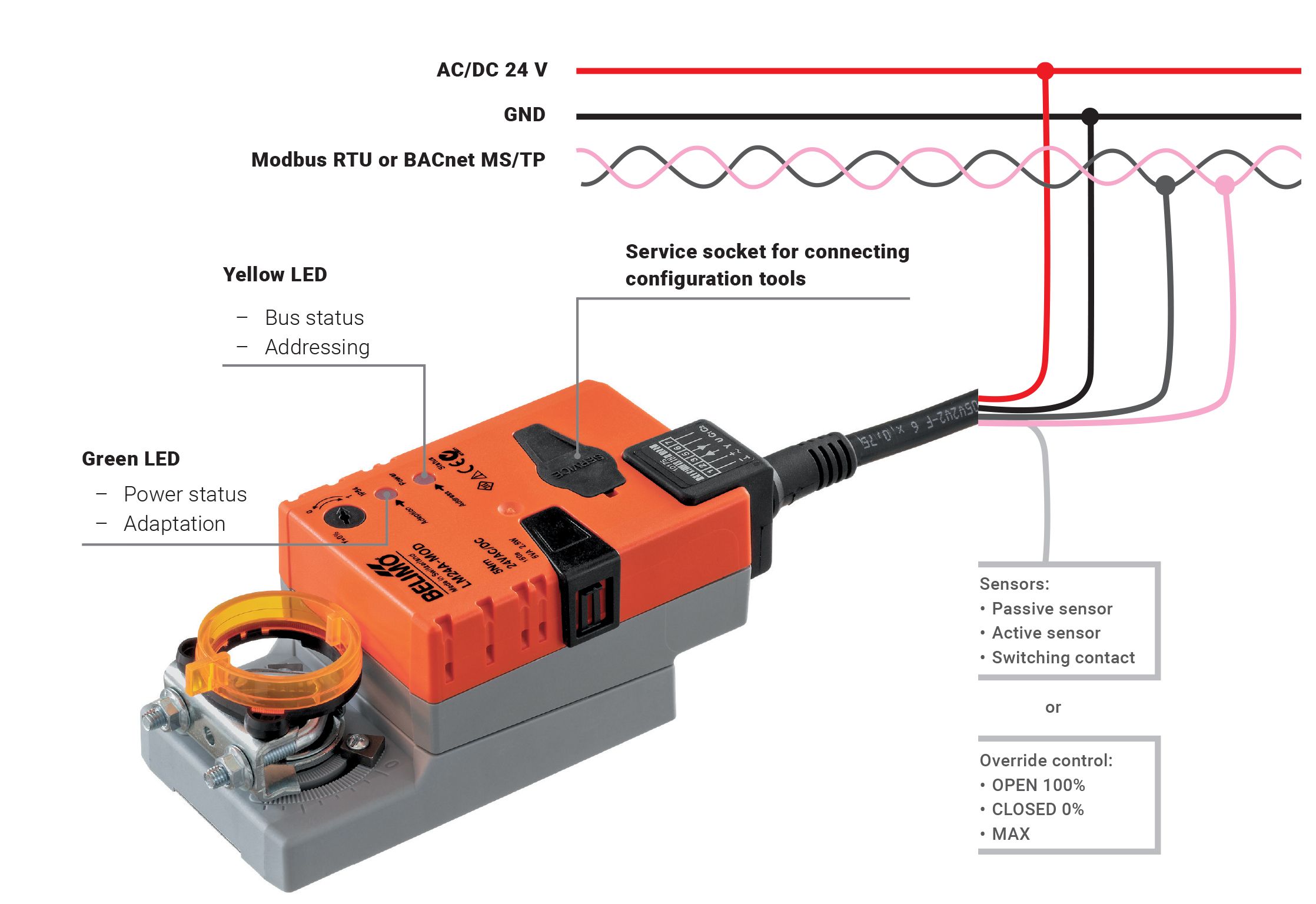 Connected Device Solutions – Additional Data, Efficient Installation, Future Proof Expandability
learn more online at www.belimo.us.