Innovations for the HVAC Market
At Belimo, we are excited to release new technology innovations for the HVAC market that will increase energy efficiency and reduce installation cost.
Seamlessly intergrated
The new sensor range from Belimo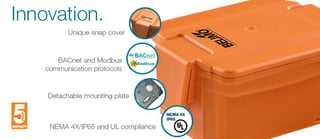 The new sensors are the perfect complement to Belimo actuators and valves, optimizing energy efficiency and system performance.
The new sensor offering is the result of over four decades of experience, research, and focus on providing value-added technologies that help reduce expenses and installation. Belimo sensors seamlessly integrate into major building automation systems with the same quality, reliability, and value that define Belimo. Belimo's expertise and ability to innovate are evident with the universal compact enclosure design, intuitive screwless snap cover, and detachable mounting plate making installation and commissioning easy.
With a focus on quality, the Belimo sensors carry a five-year warranty, conform to NEMA 4X and IP65 requirements and are UL compliant. The Belimo sensor offering includes single and multi-range: temperature, humidity, pressure, CO2, and VOC (volatile organic compounds) sensors for pipe, duct, and outdoor applications.
Discover all the advantages online.
---
Belimo Energy Valve™ Now Solves Low Delta T Leveraging IoT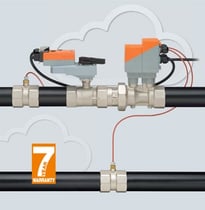 The new Energy Valve is now an IoT device utilizing advanced cloud-based analytics to leverage captured system data to the full potential providing savings and the most efficient operation. The Energy Valve is a pressure independent valve, which measures and manages coil energy by using an embedded electronic flow meter, along with supply and return water temperature sensors. One valve with so many benefits:
Patented Power Control and Delta T Manager logic built-in monitor coil performance and optimize the available energy of the coil by maintaining the Delta T
Glycol monitoring an exclusive feature ensuring glycol content meets design needs to provide optimum efficiency and safe operation.
Cloud analytics provide recommended Delta T and flow set points which can be updated remotely. Accessing and analyzing data reduces field labor and delivers better system efficiency.
Dynamic coil performance illustrates the operation of the coil in real time accurately providing transparency of power degradation and other operational issues.
Most expansive communication platform on the market including Cloud, BACnet MSTP and BACnet IP, Modbus, RTU and TCP/, Belimo MP-Bus, and one analog feedback signal for valve flow, power, temperature or position providing expanded system integration and BMS control.
The Energy Valve is ideal for water-side control of heating and cooling systems for AHUs and any water coil (equal percentage: heating/cooling application) with programmable maximum flow settings from 1.65 - 713 GPM in valve body size ½" to 6".
Discover the advantages online.
---
Advanced Butterfly Valve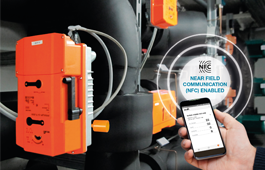 A new release of the advanced butterfly valve with PKR electronic fail-safe actuator offering enhanced control. The durable electronics, simple configuration software, BACnet communication, and dependable super capacitor technology is the most economical and effective solution for critical applications. Replacement of legacy pneumatic actuators is straightforward, eliminating problematic battery back-up modules or expensive industrial actuators. The newly designed butterfly valve and actuator assembly are the most intelligent, energy efficient, and reliable high flow solution in the HVAC market. With a focus on ease of installation, application flexibility, and longevity, this series sets new performance standards in the HVAC market.
Saves energy with up to 80% less power consumption than currently available solutions
Self-adjusting algorithm that assures zero leakage and improves system performance
Application flexibility with a fail-safe function and universal power supply input from 24 to 240 VAC(24 to 125VDC)
Easy troubleshooting with its unique position indicator viewable from long distances and any angle
Simplified setup, diagnostics and superior application data access with BACnet and Near Field Communication (NFC) built-in
The advanced butterfly valve with the new PKR electronic fail-safe actuator completes the product range offering.