Belimo Highlights at 2020 AHR Expo
AHR Expo in Orlando, Florida, was a huge success. It attracted over 80,000 industry professionals from around the globe. The show provided a unique forum for manufacturers of all sizes to share ideas and to display future HVACR technology solutions. Belimo had a special celebration at the booth with its 100 millionth actuator hand-off to Darryl Boyce, President of ASHRAE. The celebration was a monumental moment, and was shared with many customers and associates.
The Belimo booth this year illustrated how our small devices make a big impact on HVAC systems. At Belimo, we continually drive ongoing improvements related to Comfort, Energy Efficiency, Safety, Installation, and Maintenance. CESIM is the Belimo method to innovate building technology with sensors, valves, and actuators. . It's the way we provide value for our customers.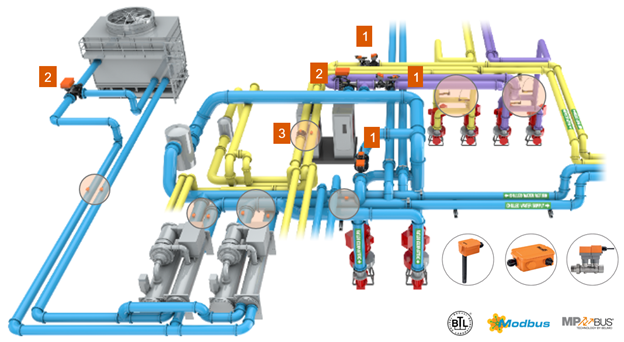 Our new booth design helped to educate the value of adequately sized products in Air Handling Units and Hydronic Systems. Overdesigning and oversizing HVAC systems directly results in higher operating costs and a higher carbon footprint. Soon, an emphasis on total building performance and energy code compliance will be the mandate for the industry.
Highly efficient HVAC systems provide superior comfort and reduced energy with lower maintenance costs. Hydronic system problems are revealed when building occupants report comfort issues or facilities see an increase in energy usage. Typical indicators are when a space is too hot in one area, and too cold in another, causing low delta T with higher than expected energy costs, along with difficult initial startups.
Let us highlight one area of the booth, the hydronic system. The key to achieving perfect hydronic control is design flow at terminal units, the differential pressure across control valves, and flow capability. Many buildings experience high energy costs due to low delta T – some causes in older buildings are inaccurately sized valves. The solution, the Belimo Energy Valve (1), an IoT cloud-connected pressure independent valve that monitors coil performance and energy consumption while maintaining Delta T. With an exclusive glycol monitoring feature providing accurate, repeatable flow measurement, and ensuring glycol content meets design requirements.
Butterfly valves are fundamental components in hydronic systems. Unfortunately, most butterfly valves are less than ideal – they leak, their running times are not optimized for HVAC applications, they're heavy, it's hard to access wiring, and they cannot be put into operation quickly.
The Belimo technologically advanced butterfly valve assemblies (2) are the exception. They are designed specifically for HVAC applications – offering up to 80% less power consumption, zero leakage, and improve system performance with the self-adjusting design. Belimo butterfly valves also offer simplified setup, diagnostics, and superior application data access with BACnet, Modbus, and MPBus.
Trusted flow measurement is essential in maximizing HVAC system efficiency and ensuring occupant comfort. Belimo flow sensors (3) utilize ultrasonic transit-time technology to provide accurate and repeatable flow measurements of water and water/glycol mixtures without drift in any HVAC application. A variety of other sensors from differential pressure sensors to measure water and non-aggressive gases to temperature and humidity sensors to ensure accurate water temperatures. Belimo products make a big impact on hydronic and air handling systems.
At the Air Handling Unit, actuators, sensors, and valves interface between the control system and the mechanical system. They are critical for accurate control. Typically, 80% or more of direct digital control outputs in the HVAC goes to actuators. If not positioned accurately, then all other portions of the air system suffer.