Duct Differential Pressure Sensors with True Auto Zero Functionality
The new 22ADP-584A and the 22ADP-584B duct differential pressure sensors with true auto-zero functionality provide precise pressure measurement. The automatic calibration electronically adjusts the transmitter's zero reference value every ten minutes. During the adjustment, the output and display values will freeze to the last measured value, eliminating output signal drift due to thermal, electronic, or mechanical effects. The device returns to its normal measuring mode after the one-second calibration process.
All 22ADP sensors include dip switches with eight selectable field ranges and pressure output units in inch WC or Pa. These features allow the sensor to cover a wide range of applications that simplify product selection, eliminate procurement errors, and reduce inventory.
Both models include a NEMA 4X/IP 65 rated enclosure; the 22ADP-584B features an LCD. An accessory, EXT-RP-SSRPV stainless steel wall plate, can be used in conjunction with all 22ADP models to monitor room pressure. The 22ADP applications with the EXT-RP-SSRPV wall plate enable the controller to maintain positive or negative room pressure for hospitals, isolation rooms, medical centers, and laboratories. Maintaining positive room pressure is an isolation technique used in hospital rooms to maintain a higher pressure inside the treated area than the surrounding environment to protect patients from viruses and bacteria. In contrast, negative air pressure cleanrooms are used to keep contaminants contained within the enclosed work environment to prevent cross-contamination from room to room.
The 22ADP sensors are a perfect solution for monitoring and controlling static pressure in low to high pressure ductwork. Duct static pressure is measured by connecting the high-pressure port to a duct static pressure tip, and referencing the low pressure port to the outside the duct. The 22ADP sensors are ideal for clean rooms, laboratories, surgical rooms, dormitories, filter monitoring, and net building pressurization relative to the outdoor atmosphere.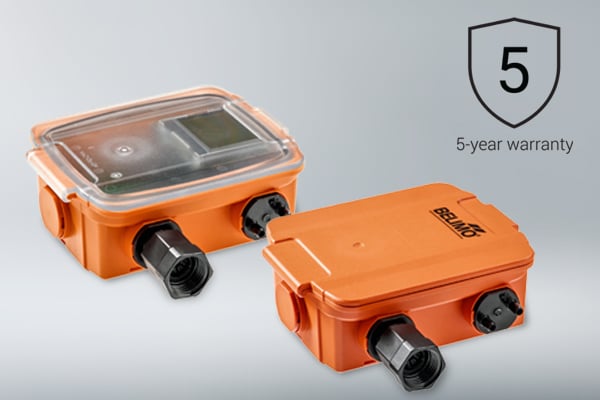 Product Features:
True auto-zero functionality
0…10 inch WC measuring range
Eight field selectable measurement ranges
0…5 V, 0…10 V, 4…20 mA field selectable output signals
Snap-on cover
NEMA 4X / IP65 rated enclosure
Spring-loaded removable terminal block
For further information reference, technical documentation is available online at www.belimo.us.