Electronic Fail-Safe Actuator Offering Enhanced Control During Power Outages
Environmental and climate conditions often result in short power interruptions which can cause damper and valve actuators to begin fail-safe operation and temporarily destabilize the room or building temperature control. This causes unnecessary actuator movements and additional energy usage. The electronic fail-safe actuator series with the control power-off function and durable, maintenance-free capacitors provide solutions to these climate conditions.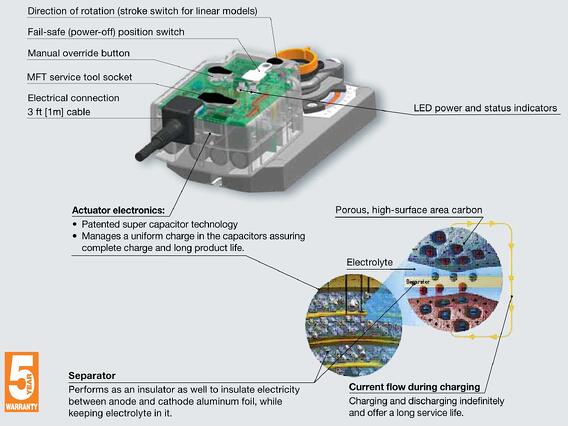 Electronic fail-safe actuators are easy to install, commission, inspect and connect to higher level systems and have a complete line of accessories available. The electronic fail-safe actuators are available in the following models:
High Torque: GK Series – 360 in-lbs [40 Nm], approximately 90 sq. ft.
High Torque: Tandem Mounted: GK Series – 720 in-lbs [80 Nm], approximately 180 sq. ft
Quick Speed: NKQ Series – 54 in-lbs [6 Nm], approximately 12 sq. ft.
Linear Motion: AHKX Series – 101 in-lbs [450 N force]
The electronic fail-safe actuators were developed by integrating super capacitor technology to provide reliable operation and bridge short voltage interruptions to control the damper into a defined power-off position. Super capacitors supply sufficient power to bridge power interruptions for up to 10 seconds and moves the dampers or valves accurately into the predefined fail-safe or power-off position avoiding an extreme open or close position.
The fail-safe position can be set 0-100% in 10% increments providing the user a wide range of power-off positions. Power consumption is significantly reduced in standby and hold mode by a patented function; offering further energy savings.
With over 5 years of development these electronic fail-safe actuators incorporate the latest super capacitor technology. Offering:
Increase cycle life
Selectable fail-safe position (0-10%)
Rapid charging
Charging diagnostics
Maintenance free
The electronic fail-safe actuator market has experienced serious problems in the past. Actuators designs have had short life cycle, capacitors have not charged completely, problems were experienced at high and low temperatures, and long start-up times; all of these past concerns have been addressed with Belimo Electronic Fail-Safe actuator series.
Maintenance free
100,000 full cycles
1,000,000 partial cycles
Current reduction in standby/holdmode