Flanged Globe Valves are now available with Electronic Fail-Safe Actuators
Belimo is proud to announce the additional product offering of the GK Series, electronic fail-safe actuators being offered on the
G6 and G7
flanged globe vales. Belimo electronic fail-safe actuators were developed for the HVAC market using several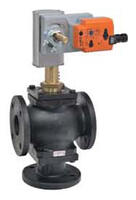 patented technologies to provide reliable operation and selectable fail-safe positioning. Unique electronics, software and super capacitor technology not only enables user selection of fail position (0-100%), but also delays unnecessary actuator movements during short brownout conditions. This avoids changes in the HVAC and building automation system.
The G6 and G7 flanged globe valve series with the 360 in-lb GK fail-safe damper actuator series are available with single mount GKB24-3-X1 and GKX24-MFT-X1 models and offers:
Fail-safe capabilities with close-offs equivalent to the GM series.
Fail position with the flip of a switch on the cover of the actuator.
Auxiliary switch with adaptor component available for switch function capabilities.
Product offering is listed in our
2011 Product Guide and Price List
.