Badger BTU Meters – An Economical Metering Solution
Belimo now offers the Badger® Series 380 BTU meters to provide an economical solution for metering cold or hot systems.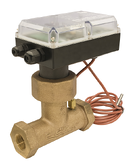 The 380 BTU can accurately measure temperature differential and flow to compute energy. Utilizing either BACnet or Modbus RS-485 communications protocols and a scaled pulse output, the BTU Meter can interface with many existing control systems.
The Badger meter is designed to accurately measure flow and differential temperature to compute energy. The Badger® Series 380 BTU meters are used to monitor energy transfer in many HVAC applications such as:
Boilers
Performance contracting
Chillers
Energy cost allocation/tenant billing
Heat pumps
Continuous commissioning
Air Handlers
Measurement and verification programs
Terminal equipment
High performance green buildings
The Badger 380 features a rugged design; temperature, flow and BTU measurement coupled with a scaled pulse output and digital communication capabilities. These notable features ensure years of troublefree performance and make it possible to meter energy where it has not been cost effective before.