Don't Overlook the Obvious – Control Your Steam with HTCCV
HTCCV - Environmentally friendly and suitable for clean steam and potable water.
The High Temperature Characterized Control Valve (HTCCV) meets the challenges of space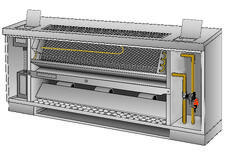 restricted applications such as unit ventilators, and fan coil units. It is available with spring and non-spring return actuators. The HTCCV is environmentally friendly and is suitable for hot water or steam applications.
Well thought-out in every respect.
The HTCCV controls water and low pressure steam. Within the ½" to 1" sizes, a globe valve is no match for the HTCCV. The HTCCV features:
• Fluid dynamically designed characterizing disc reduces turbulent flow and improves the efficiency of the system.
• It's maintenance free.
• Dezincificated brass body, to ensure the mechanical strength and integrity of the valve in a critical steam application.