The Benefit of HVAC Piping Packages
Piping Packages, sometimes referred to as coil kits or hose kits, are a streamlined method of piping HVAC terminal units, significantly reducing the amount of field joint connections required between the distribution piping and the coil. Hydronic applications use water or water/glycol solutions as heat transfer fluids in heating and cooling systems. Typically, in large-scale facilities such as commercial buildings, high-rises, schools, university campus facilities, a hydronic system will include a chilled and hot water loop to provide heating and cooling. These hydronic systems consist of centralized energy sources such as a chiller or boiler, pumps to move the fluid, and associated distribution piping to connect to localized heat transfer terminal units. These terminal units require flow control often through actuated valves and ancillary components to allow for commissioning and routine maintenance. Custom factory assembled piping packages offer an excellent solution to meet the numerous piping requirements for these hydronic applications.

Piping package solutions include isolation for control valve and coil, pressure/temperature test ports for balancing, manual air vents to help remove air trapped in the coil, and strainer with integral drain. Components are available ½" – 2" sizes with popular connection options such as Female NPT, Sweat, or press, with tailpieces available with up to two pipe size reductions to meet a wide variety of job site requirements. Custom piping package assemblies can dramatically simplify the contractor's job by reducing connections to as few as four with less opportunity for errors.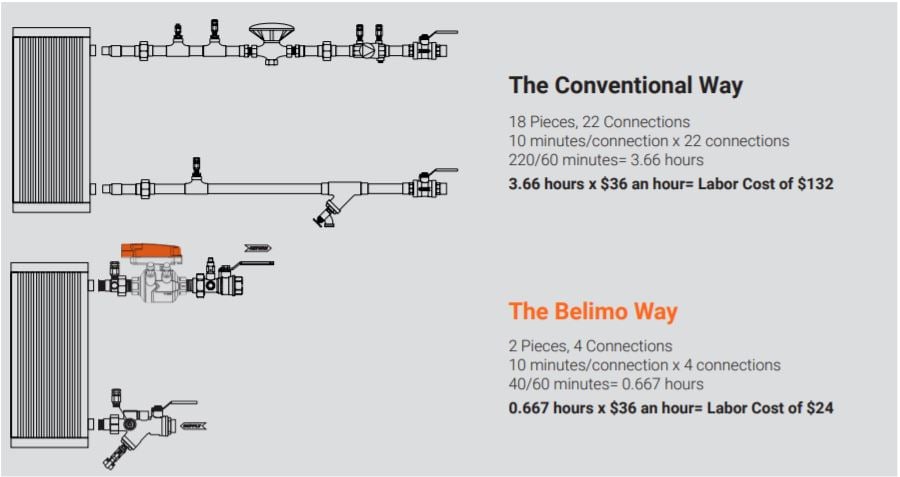 Many available configurations with pressure independent valves (Energy Valve, EPIV, and PIQCV) and pressure dependent valves (QCV, CCV), along with standard zone valve assemblies, all suited for a wide variety of hydronic applications. Belimo piping packages offer a 5-year warranty.*
There are many component features to Belimo's piping packages:
The integrated union with readout port combines the features of a union, reducer/adaptor fittings, and pressure/temperature readout port into a single unit. The integrated hybrid union with a 5xDN tail adaptor fittings and pressure/temperature readout port into a single unit designed specifically for Energy Valve or the EPIV.
This isolation valve combines the features of an isolation valve, union connection, air vent, and pressure/ temperature readout into a single unit. Engineers favor the full port design because it minimizes terminal unit piping pressure drop, and the forged brass body ensures reliable leak-free performance.
The manual balance valve combines the features of an isolation valve, union connection, air vent, and pressure/ temperature readout ports, along with the added value of a low-loss, high-signal venturi readout device into a single unit. The addition of the fixed orifice venturi makes this product perfect for readout and setting the flow of individual circuits accurate to +/- 2%. The forged brass body of the manual balance Valve is favored by Engineers because it ensures reliable, leak-free performance.
The strainer combines the features of an isolation valve, a 20-mesh stainless steel screen, union, and pressure/ temperature readout port into a single unit. The forged brass body ensures reliable, leak-free performance. Multiple taps/bosses offer versatility for additional accessories to accommodate piping configuration requirements.
The flex hose is specially designed for operating conditions in heating and chilled water applications. Each hose is made up of several components, and the unique 12 point double crimping on the ferrule under strict quality control gives this hose double security against any leakage. The EPDM core meets a fully defined specification rated up to 400psi in ½" and ¾." The elastomer is not sensitive to glycol or water treatment products. Hoses meet 25/50 flammability and smoke development classification requirements of codes and specifications tested by the ASTME 84 method.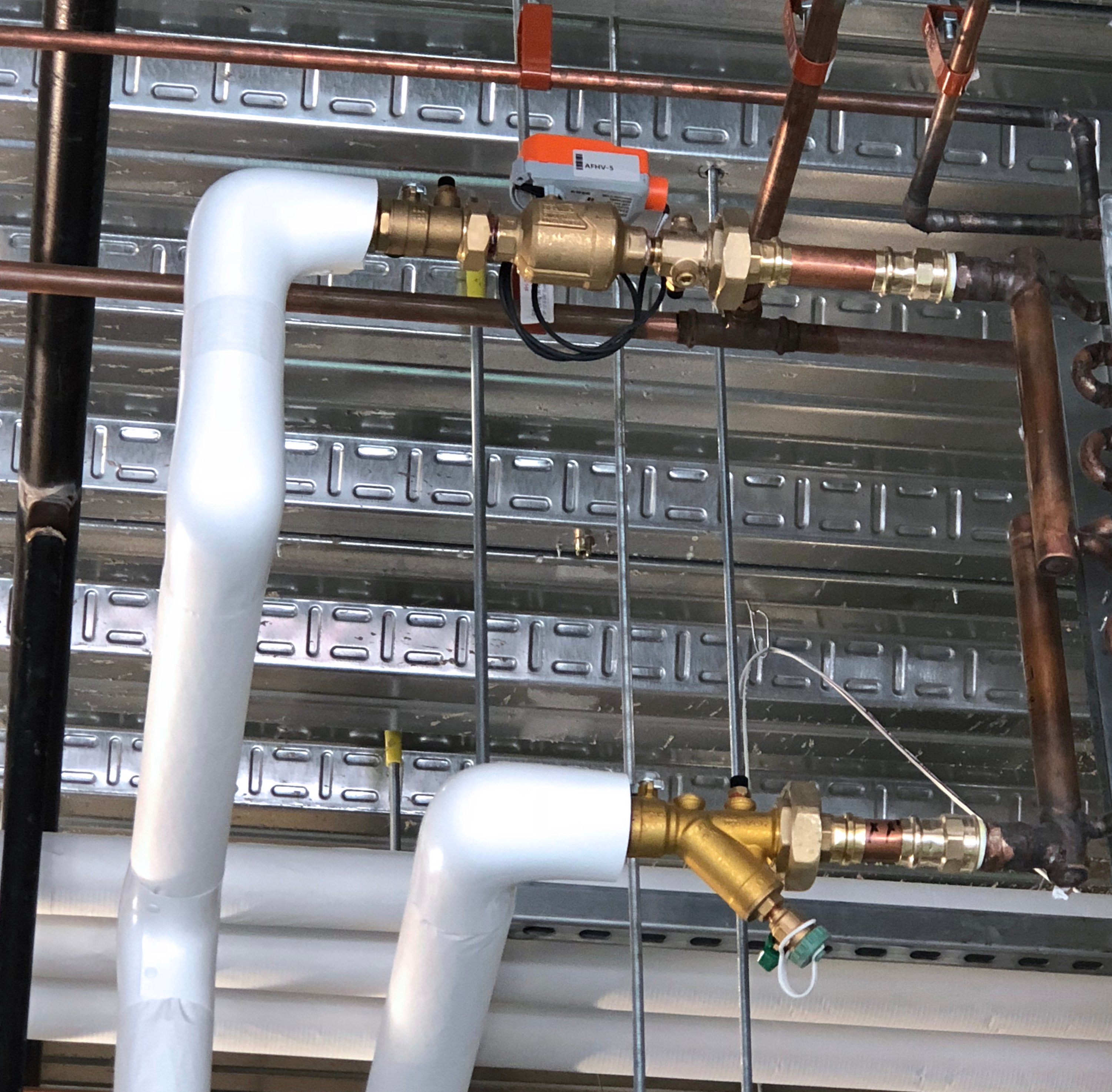 Overall piping packages eliminate numerous piping connections saving installation time and costs. Convenient access allows for easy commissioning providing optimal performance. At Belimo, each standard or customized solution comes bagged and tagged for easy job site distribution. Factory assembled piping packages are 100% leak tested for reliable operation and offer fast delivery and ease of installation.

*2-year warranty on standard zone valves.
Use Belimo SelectPro™, the software tool for accurate sizing and selecting your next piping package.