Smart Building Solutions meet Demanding Requirements for Aesthetics and Functionality
545wyn is a first Class A office building in Wynwood, Florida. Gensler designed the building with three purposeful goals:
To elevate and cultivate Miami's standard office experience.
Authentically reproduce Wynwood's vibrancy.
To engage with the Wynwood neighborhood¹.
The ~285,000 square foot, 11-story structure utilizes a "core and shell" concept, with the interior core structure and the exterior building envelope having been fully designed and built as the first phase of the project. The interior design and architecture of each floor are at the leaseholder's discretion, giving tenants ample creative freedom to develop their own unique space.
Miami-based Smart Building Solutions (SBS) was tasked with designing the entire building's HVAC control and automation system. Aesthetics was another critical factor. In keeping with the owner and architect's vision, SBS wanted any control device visible to tenants to be low-profile and blend in seamlessly with the interior design. The decision was made to go with a single-source provider of room sensors for the entire building. In total, 120 room sensors were installed. Belimo multi-parameter room sensors measure temperature, humidity, and CO2 in a single surface-mounted unit. They are ideal for installation in visible areas with simple, clean aesthetics and have the slimmest profile of any active sensor on the market. With a depth of just 0.88 inches, the multi-parameter sensors blend into any space. Unlike many other sensors on the market, which require complex mounting and wiring, Belimo room sensors are equipped with removable spring-loaded terminal and push-in terminals for quick and trouble-free installation.
Another critical factor in specifying Belimo sensors, stated Dan Perez, Vice President and Partner at Smart Building Solutions, "when installing 100+ sensors across a multi-floor building, time and cost savings on installation can really add up. The intuitive design of the sensors and diagnostic capabilities made the entire I&C process quick, easy, and pain-free."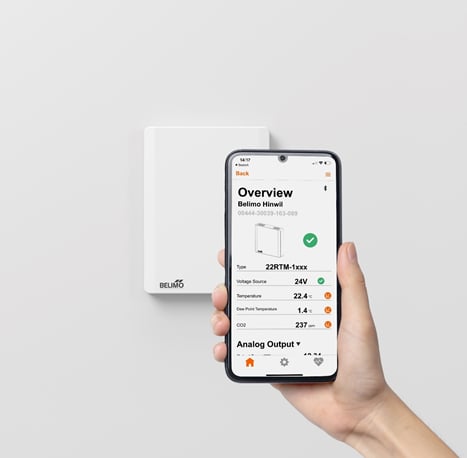 Commissioning and diagnostics are further simplified by the Belimo Assistant App using Near Field Communication (NFC) to enable specific settings of critical parameters via a smartphone. The app provides device settings and operating data for all active Belimo room devices at the user's fingertips. The NFC function provides wireless, efficient configuration, control, and onsite operation of room sensors, even if the sensor is not connected to a power supply.
Download the entire Success Story.
¹SOURCE: GENSLER