New Fire and Smoke Actuator Offering Higher Torque and Temperature
Belimo Americas launches the new FSAF*A high torque fire and smoke damper actuators. The FSAF*A electronic actuators are integrated into a life safety control system on smoke and combination fire and smoke dampers. This protects against dangerous low temperature smoke that is produced before fire breaks out and the large quantities of smoke generated in fully developed fires. The primary result is fast smoke containment so that occupants are able to egress a building fire safely. Additional benefits are less smoke damage to furnishings and property and increased visibility for fire fighters.
The FSAF*A spring-return actuator is designed for operation of smoke and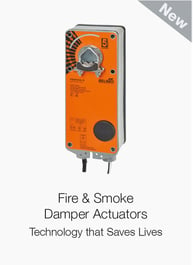 combination fire and smoke dampers in ventilation and air-conditioning systems. Designed for maximum safety in all situations, the FSAF*A design incorporates the following features and standards:
In addition to UL 60730 listing the actuator has been tested to UL 2043 and may be installed in plenums per NEC Section 300.22 (c) and the IMC Section 602.2.
Meets all codes for commercial buildings in the US.
Passes UL 555 & UL 555S at 350ºF.
Tested for 30,000 open-closed cycles. This also exceeds UL's requirement of 20,000 cycles at damper static load.
Designed for the extreme conditions incorporates a steel housing, tamper-proof construction, and high temperature integrity. Gearing is made of steel and the internal, heat-resistant spring guarantees safety closure.
High motor reliability. With a reduced current at the end position, the FSAF*A motor cannot burn out, even after extended stall periods.