Understanding Codes & Applications for Replacement of Fire and Smoke Damper Actuators
Fire and Smoke dampers are required by building codes to prevent spread of flames and toxic smoke in case of an event. Periodic testing of life safety systems and dampers is required by the codes, as described in Chart 1. The entire smoke control system must be tested according to the schedule labeled "Smoke Control Systems & Dampers." The Authority Having Jurisdiction (AHJ), usually the Fire Marshal or Building Official, interpret the codes. NFPA 80 regulates fire dampers. NFPA 105 regulates smoke dampers. Both codes require repairs be initiated and completed as soon as possible and a record of the corrections to be available on the premises. UL does not regulate replacements; the AHJ is the final authority.
Chart 1 Periodic testing requirement for dampers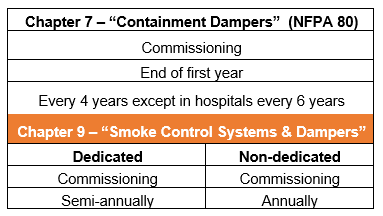 UL does not regulate the replacement of old actuators. Inspectors anticipate equal or better actuators with UL555 and UL555S listing. Some jurisdictions require a permit and inspection when a large number of damper actuator replacements are needed or when changing from pneumatic to electric. If any fire alarm wiring is touched or if any structural modifications are made, a permit and inspection are required. Retest of the alarm functions is also expected. This requirement varies by jurisdiction; in most jurisdictions actuator replacement is considered an ordinary repair. Retesting of the damper is expected. Belimo has a number of retrofit replacement instructions available online at www.belimo.us/firesmoke. Each instruction includes a testing checklist.
Fire and smoke damper actuators tolerate 250°F or 350°F for a half hour and must operate in less than 75 seconds to open or to close a damper per UL555S. (Las Vegas requirement is 60 seconds or less).
Codes and Referenced Standards
The model codes in the US are the International Building Code (IBC) and the International Fire Code (IFC). Chapter 7 of the IBC regulates fire resistive rated construction. Fire dampers are installed in fire walls, fire barriers, fire partitions, and horizontal assemblies. Smoke dampers are installed in smoke barriers, and smoke partitions. Combination fire and smoke dampers required by Chapter 7 of the IBC can be installed in any of the applications that require both fire rated construction and smoke containment. Fire and smoke dampers resist the passage of flames and smoke particulates. Most fire dampers are curtain type and have fusible links that melt at (typically) 165°F (74°C) allowing gravity or a spring to close the damper. Fire dampers are rarely actuated in the Americas (although they are regularly actuated in Europe so that they can be automatically tested).
The IFC defines and references NFPA 80 (fire) and NFPA 105 (smoke) directly for the damper requirements and testing. These two standards detail what to test or inspect, periodic requirements and replacement information. The IFC provides smoke control system requirements directly by 909.20.4 for dedicated systems and 909.20.5 for non-dedicated systems. NFPA 90A and NFPA 92 are referenced with respect to testing and to smoke protection.
Every situation is unique and there are usually many questions. Join Belimo and High Performance Building for a webinar on Replacing Life Safety Damper Actuators – Understanding Applications & Codes. New questions arise all the time, register for the October 10th webinar.