How HVAC Systems and Sensors can Improve Air Quality in Schools
According to the Organization for Economic Cooperation and Development, and as reported by EdWeek, the average U.S. student spends 8,884 hours over nine years in primary and lower secondary education. Recent research has shown that poor air quality can negatively affect health and academic performance. With students spending around 1,000 hours a year in classrooms, indoor air quality in schools is a growing concern.
One major contributor to poor indoor air quality in schools is elevated levels of carbon dioxide (CO2). Carbon dioxide is a naturally occurring gas in the air we breathe. However, in enclosed spaces such as classrooms, the levels of CO2 can become high due to poor ventilation and a high density of occupants.
Elevated levels of CO2 in the air can lead to several adverse health effects, including headaches, fatigue, and difficulty concentrating. A 2017 study published on Indoor Air suggests that students in classrooms with poor ventilation and high levels of CO2 may experience decreased cognitive function compared with students in classrooms with good ventilation and lower levels of CO2.
HVAC operation is critical for maintaining adequate indoor air quality, and facility operators must evaluate their systems to ensure that schools meet ASHRAE guidelines. Accurate monitoring of the environment is an essential step in the IAQ evaluation process. Strategies such as increased ventilation, improved filtration, and air cleaning may be used to enhance students' safety, comfort, and productivity. Room sensors play a vital role in this process.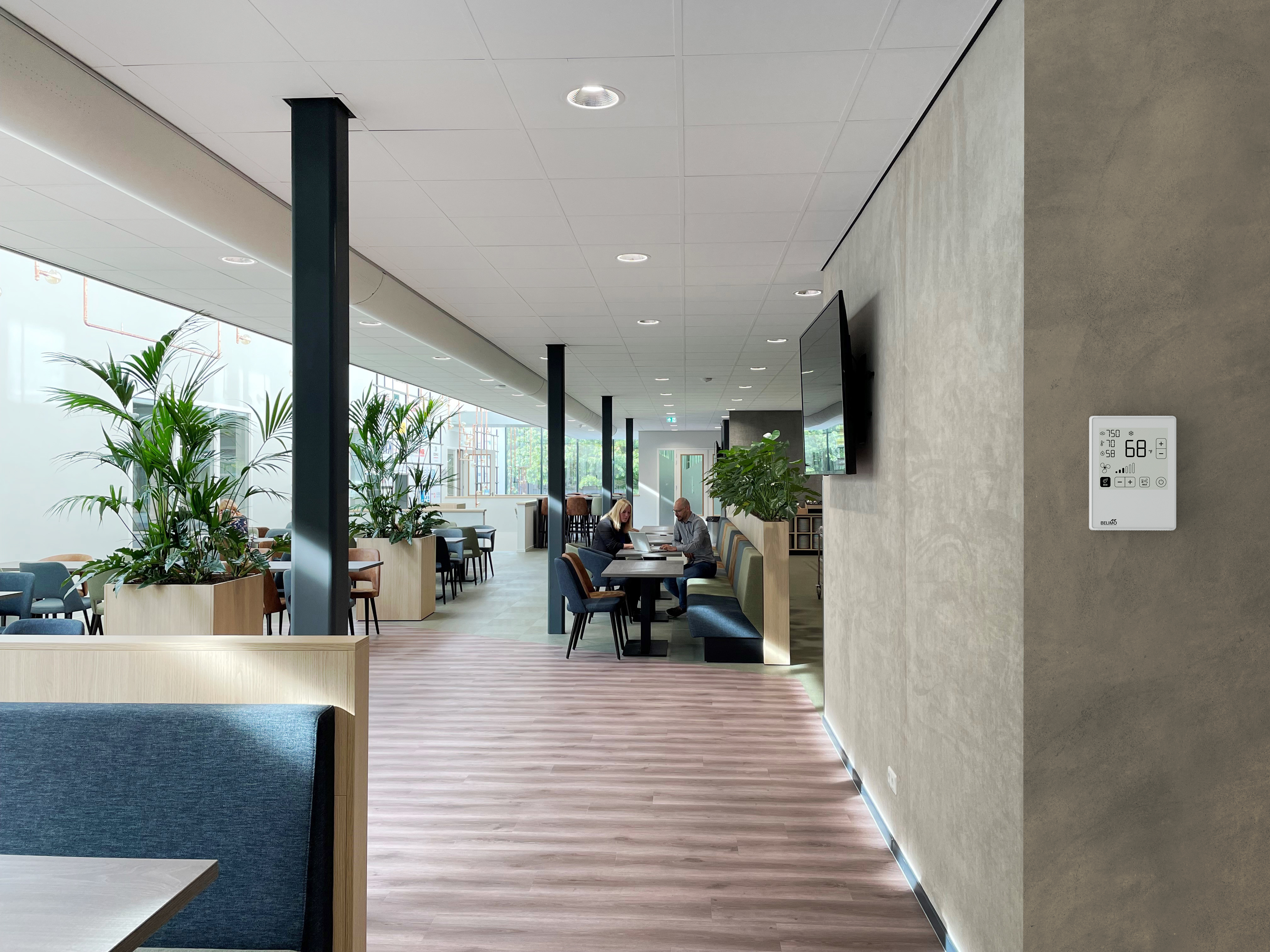 Collège Laval is a private secondary education college in Quebec that has recently undergone an HVAC renovation to improve the air quality and comfort of its facilities. Collège Laval and HVAC integrator Immotik installed 115 Belimo room sensors throughout the school's six wings to accurately monitor CO2, temperature, humidity, and dew point. The sensors allow for field adjustment, commissioning, and troubleshooting using the ePaper touch display or the Belimo Display App for non-touch display models. The sensors are maintenance-free and deliver long-term reliability for a comfortable and healthy indoor environment.

Collège Laval's move to improve air quality is in step with the times. As Quebec's Ministry of Education announced in September of 2021, 90,000 CO2, temperature, and relative humidity sensors had been installed in all preschools, primary, secondary, vocational training, and adult education facilities in Quebec in a widespread effort to ensure the proper air quality in classrooms across the province.

→ Download the full story of Collège Laval's success with increasing IAQ in the school.