Belimo Americas Makes Move to New Energy-Efficient Headquarters
Belimo Americas is pleased to announce that it has officially made the move to its brand new, energy-efficient headquarters in Danbury, Connecticut.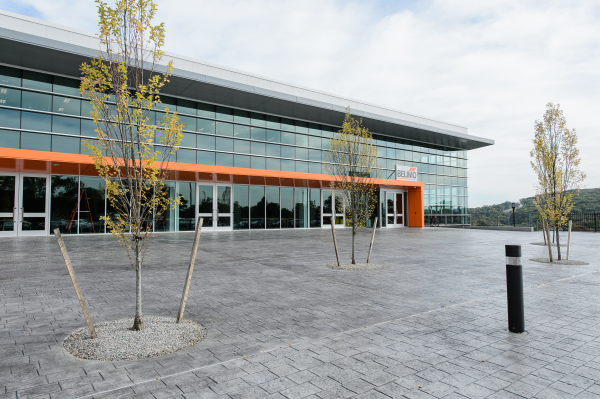 Located on 34 acres of hillside landscape near the city's western border, the 200,000 square foot facility is more than twice the size of the company's previous office and production site and will serve as a showcase for all of its valued customers.
Built to give visitors a firsthand experience of how Belimo technologies can improve controllability, comfort, and energy efficiency in structures, the new facility features a number of the company's very own proprietary products and is on track to achieve LEED® Gold Certification from the U.S. Green Building Council.
In addition to expanded manufacturing capabilities, which will help ensure the production of high quality products with industry best lead times, the building also includes a state-of-the-art HVAC control valve design and testing laboratory, a hands-on training facility for Belimo University, improved ergonomic design to better accommodate employees from Ability Beyond, and a full-range of interactive product demonstrations for its customers.
All together, the building includes 126,000 square feet of manufacturing space, with the option of adding another 100,000 square feet if the need arises. It can also accommodate another 23,000 square feet of office space in the event that future operations require expansion.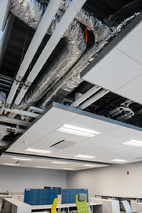 One of the most interesting design aspects of the new facility is its layout, which features cloud-based ceilings that allow visitors to view the company's damper actuators and control valves at work. In the boiler room - which other facilities usually close off from the public - Belimo has also installed color-coded pipes to help customers see each system in operation.
When asked about the decision to implement the unique ceiling design, Belimo's Vice President of Finance and Administration, John Coppola, said:
"The building layout allows for tours of the facility so that customers can see our products in action. The tour is called: Belimo – Experience Efficiency. It's a fabulous work environment; one where not only everyone can enjoy their day at work, but where we can teach our employees, sales managers, and customers the important role that our products have in sustainable buildings."
Among the many Belimo products and technologies used to improve the energy efficiency of the building, some of the most notable include:
44 Energy Valves that allow for precise energy measurement, control and optimization of chilled and hot water flow.
94 6-Way Valves for changeover control of chilled beams and fan coil units, which helps reduce the overall number of valves, actuators, and integration points required to achieve the same result.
188 Pressure Independent Characterized Control Valves for automatic balancing of chilled and hot water flow to each chilled beam branch.
More than 160 Active Chilled Beams in combination with Belimo air flow balancing actuators to target the delivery of outdoor air efficiently.
A roof top unit for delivering conditioned air to the retrofit actuator machine shop, RMA, and AB area. The purpose of the unit is to demonstrate the effectiveness of the ZIP Economizer.
While the facility's unique design will put on display Belimo's prowess in the HVAC industry, other energy saving strategies and technologies will also help pave the way to its LEED® Gold Certification. Some of these strategies include water efficiency landscaping with bioswales to prevent water runoff and erosion, sub-metering of mechanical room devices so that energy consumption of systems can be closely monitored and recorded, occupancy and brightness sensors for efficient use of LED-lighting, evaporative coolers, dual flush toilets, and onsite waste management and recycling.
"Being an energy-solutions provider, it was important to us that the building reflects who we are," added Coppola. "We aren't just providing energy solution products; we are living it every day. We live who we are."
Visit the Belimo building photo gallery online