Chilled water provided from a utility plant is commonly in a building's HVAC system in lieu of installing chillers. Lower return water temperatures or low ∆T decreases the efficiency of the entire chilled water system. This condition is known as "Low ∆T Syndrome". Low ΔT syndrome is the result of the inefficient use of chilled water at the point of consumption. Join our webinar on Wednesday, August 23, 2017 at 1:00PM - 2:00PM EDT.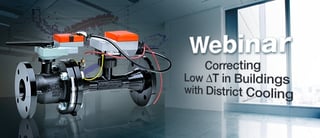 Th
is presentation will provide a review of district chilled water system design and how low ∆T impacts
bot
h the
chillers an
d the buildings the chillers are serving. Finally, we will review a study of a building where "Low ∆T Synd
rome" was corrected at the point of water to air heat transfer.