Mechanical and electrical companies from throughout Canada and the US filled the Moncton Coliseum Complex for the MEET 2016 - Mechanical Electrical Electronic Technology Show. The show was a mix of over 6,000 industry professionals which is the second largest event of its type in Canada.
The MEET Innovation Awards were presented to each of the four participating industries in recognition of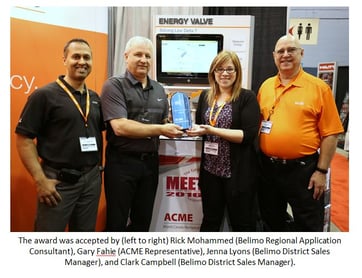 innovative products. The winners were:
Belimo recipient of the ACME (Atlantic Canada Mechanical Exhibitors) Innovation Award for the Belimo Energy Valve™
Delta Faucet Canada recipient of the CIPH (Canadian Institute of Plumbing & Heating) Innovation Award for the Electronic Thermostatic Lav Faucet
Stelpro recipient of the Electro-Federation Canada Innovation Award for the 4000 W KI Thermostat for the Smart Home
Beghelli Canada Inc. recipient of the IES (Illuminating Engineering Society) Innovation Award for the Pluraluce®.
New for the MEET show was a pre-registration passport prize program, offering visitors who pre-registered by a specific date a chance to win one of two cash prizes. Congratulation goes to Gary Arseneault and Nicolas Comtois, who each receive $4,000 courtesy of the program's sponsors:
Belimo
Controls & Equipment Ltd.
Dettson Industries
Dimplex North America Limited
Eaton
Rittal Systems
Schneider Electric Canada
Viega
MEET also featured the Skills Canada NB Electrical Installations Competition; showcasing the best post-secondary construction electrician students in the province. Joey Bard (Apprenticeship Edmundston region) won the competition and will go on to compete at the Skills Canada National Competition.
To stay up-to-date on the details of MEET 2018, visit www.MEETShow.ca. To learn more about the Energy Valve, visit www.energyvalve.com.