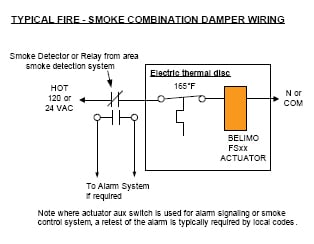 The most asked question Belimo gets is how the wiring and sequence of operation work on UL555S Listed actuated dampers. Here's how.
About 80% of dampers have a single temperature manual reset high limit at 165°F (74°C). The damper blades are in the plane of the fire barrier and if the duct temperature rises to the set point, then the switch opens, cuts power to the actuator, and the damper springs closed.
The smoke detector or relay from alarm panel is wired in series as shown in the drawing below. If smoke is detected, the contact opens and again the damper springs closed. If there is a building fire alarm, then the smoke detector auxiliary contacts close and signal an alarm.
In about 10% of applications, the damper is smoke only. In that case, there is no high temperature limit.
In about 10% of applications, the damper may also be controlled from the Fire Fighters Smoke Control System (FSCS) shown below. If the Hand-Off-Auto switch at the FSCS is in auto, the sequence is the same as above.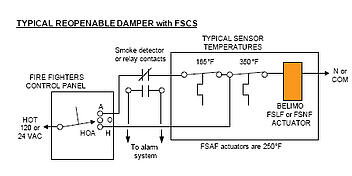 If indicated by circumstances in a fire, the damper can be commanded off by throwing the switch to the Off position.
Alternately, if the primary (165°F) sensor has opened, but smoke purge is required, then the damper can be reopened by placing the HOA switch in the Hand position. This places power back on the actuator through the secondary sensor. If, however, the fire continues to drive the temperature at the damper up, then the secondary sensor (250°F or 350°F) will override the FSCS signal and reclose the damper. All sensors are manual reset.