UL Type, NEMA, IP66, and IP67 - What is the difference?
UL Type, NEMA, IP66, and IP67 - What is the difference?
UL Listed means that Underwriters Laboratories (UL) has tested representative samples of a product and determined that the product meets specific, defined requirements. Their independent and rigorous testing process ensures that products are aligned with the necessary requirements meeting expectations. Additionally, the samples are found to be free from a reasonably foreseeable risk of fire, electric shock in a Division 2 environment, based on UL's published and nationally recognized Standards for Safety.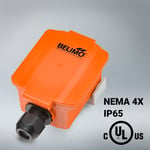 The Association of Electrical Equipment and Medical Imaging Manufacturers (NEMA) created ratings to define the types of environments where an electrical device can be used. Every NEMA number is a protection rating against personal access to hazardous parts and environmental conditions. The National Electrical Manufacturers Association does not test or approve these ratings. The manufacturer is responsible for ensuring these ratings, unless an agency lists the product, e.g., UL.
IP, which stands for Ingress Protection ratings are defined in international standard EN 60529 (British BS EN 60529:1992, European IEC 60509:1989). IP ratings are to identify levels of sealing effectiveness of electrical enclosures against intrusion from foreign bodies and moisture.
Tested

UL Standard 50

NEMA 250

IEC 60529

UL
Type 2

UL
Type 4

UL
Type 4X

NEMA 2

NEMA 4

NEMA 4X

IP66

IP67

Indoor Use

X

X

X

X

X

X

X

X

Outdoor Use

X

X

X

X

X

X

Ultraviolet Radiation

X

X

X

X

Protection Against:

Limited amounts of falling water and dirt

X

X

Completely protected from dust

X

X

X

X

X

Jets of water from all directions

X

X

X

X

X

Water immersion - 1 meter @15 seconds

X

Incidental contact w/enclosure equipment

X

X

X

Formation of Ice

X

X

X

X

Corrosion-resistant

X

X

Tested and Certified by an Independent Testing Facility

X

X

X

X

X
Belimo performs extensive independent testing using field evaluation in the harshest outdoor environments to ensure the rugged exterior of the housings can withstand varying climates. Belimo onsite lab also tests for corrosion resistance against the following: ammonia, salt mist, seawater, turpentine, aqueous sulfuric acid, chlorine (gaseous and dry), formaldehyde, and phenol. Review our product datasheets online to ensure proper protection is delivered.