Toronto General Hospital Saves Big
The Toronto General Hospital (TGH) is a significant teaching hospital in Toronto, Ontario. In 2019, Newsweek ranked TGH as seventh among the top-ten best hospitals globally and ranked 1st for research by Research Infosource for the 9th year in a row. Research Infosource Inc. is Canada's Source of R&D Intelligence and the R&D ecosystem.
The hospital was not running at ultimate design standards last summer. Low delta T was a common issue that impacted the performance of cooling the East Wing. The design team of HH Angus and Kelson Mechanical set out to install and test the impact of seven Belimo Energy Valves on AHUs before going forward with the more extensive implementation of all 18 AHU's. Seven aged pneumatic chilled water valves were replaced with Belimo Energy Valves. Belimo and JCI were also highly involved in the new valves' training and commissioning.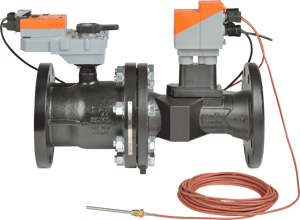 The valves were monitored for one cooling season before and after the project. With the energy valves commissioned, the total flow to the East Wing saw a reduction on average by roughly 500 gallons per minute, and the Delta T to the building increased by 3°F. Savings led to 500 additional GPM capacity that could be used to help prevent overheating in the operating rooms on the hottest days.
Based on the reduced water flow, it was straightforward to calculate the electricity savings from pumping power. With the increased Delta T and chiller efficiency, they were able to calculate the electricity savings from running the chiller at a lower load.
Overall Electricity Savings: 358,443 kWh
CO2 Emission Savings: 14 Tons (equivalent to driving 56,000km in a gas car)
Cost Savings: $41,000 per year
Based on these results, the Belimo Energy Valves is now a standard for all new construction and renovations of AHU at the University Health Network. Learn more online.
Additional benefits of installing the Belimo Energy Valve are exclusive glycol monitoring capabilities that provide accurate, repeatable flow measurement, and ensures that glycol content meets design requirements. With the built-in web server, building owners and facility managers can visualize the valves' operation in real-time and performance data is stored for 13 months onboard the valve.