Influence of Indoor Air Quality on Our Health
People spend approximately 90 percent of their time indoors and breathe 3170 gallons (12,000 liters) of air per day. Therefore, it is essential to understand the powerful influence that indoor air quality has on our well-being, especially during this extraordinary COVID-19 pandemic. While the impact of volatile organic compounds (VOCs) on humans has been widely discussed within the context of the 'sick building syndrome,' the role dry air plays in spreading of microbes, including viruses, is often neglected. High performing HVAC systems and proper humidification strategies are required to maintain a stable and healthy indoor air quality in buildings.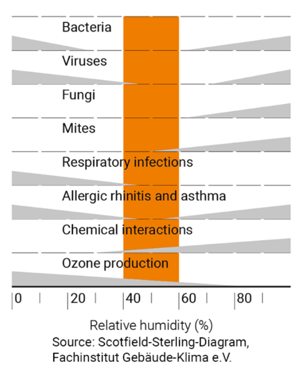 One way for viruses to spread is within small water droplets. The higher the air humidity, the larger the droplets become, eliminating them from traveling. On the other hand, small droplets can move through large open office spaces and survive for hours, infecting more people. Some bacteria and viruses become more virulent when exposed to dry air.
In temperate climates, the humidity of air often drops to a relative humidity of below 40 percent during the colder months. However, the 'sweet spot' for indoor air humidity is 40-60 percent, as this dramatically reduces the risk of disease transmission, and enables the body to better repair and protect itself.
Understand the power of proper humidification and learn the steps you can take to improve your health, productivity, and learning. This video is offered by ASHRAE Tech Hour on "Occupant Health, Building Energy Performance, and Humidity," presented by Dr. Stephanie Taylor, CEO of Taylor Healthcare Commissioning, Inc.
Dr. Stephanie Taylor is a graduate of Harvard Medical School (MD) and Norwich University (Masters Architecture). Her lifelong commitment to occupant health and wellness focuses on indoor physical environments.
ASHRAE Tech Hour brings you the latest technical content presented by some of ASHRAE's brightest minds. Tech Hour videos are just one hour, worth one PDH*, and conveniently available through the ASHRAE 365 app. Download ASHRAE 365 on the App Store or Google Play. Due to the cancellation of many in-person ASHRAE Chapter meetings and the DL program, the PDH period for Tech Hours has been extended through June 30, 2020.