Precision Control Plays Important Role in Sonoma State University Renovation
You don't change a 30+ year old university library into what Pacific Gas and Electric Company calls northern California's most energy efficient building without careful attention to detail.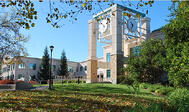 Sonoma State University had high aspirations for converting the original Ruben Salazar library into a multi-use facility and was willing to go the distance to achieve their goal without a large increase in campus demand for peak power. Be assured, a project like this demands a lot of careful consideration, from selection of the 106 kW solar photovoltaic system to the valves and actuators that control water flow and damper operation in over 100 zones.
Principal Engineer, Tony Costa, and Design Engineer, Edmund Cancio, of Costa Engineers, Inc. were well aware of the campus goals of enabling the building to maintain 100% outdoor air and maintain accurate flows to maintain comfort at the lowest possible pump speed.