2023 AHR Expo Innovation Award Winners
The winners of the 2023 AHR Expo Innovation Awards have recently been announced ahead of the annual trade event, which is set to kick-off on February 6-8, 2023, at the Georgia World Congress Center in Atlanta. The winners were selected from 10 different Air-Conditioning, Heating, and Refrigeration industry product categories, in recognition of the most innovative products and technologies on the market today. The categories include building automation, heating, cooling, sustainable solutions, indoor air quality, plumbing, refrigeration, software, tools & instruments, and ventilation.

In an interview with ACHR News, AHR Expo Manager Mark Stevens said, "the awards program experiences growth year on year. This is a direct correlation to just how fast our industry is growing through innovation. The awards are a key indicator of how HVACR is being called upon to solve worldwide issues at a rapid pace. We aim to highlight this innovation trajectory and honor those that are pushing the bar to create real solutions to difficult problems."

Hundreds of companies submit their products and technologies to be considered for the Innovation Awards each year, and the entries are independently reviewed by a panel of third-party judges made up of ASHRAE members. Entries are judged based on design innovation, creativity, value, real-world application, and market impact.

The funds raised from the entry fees of the AHR Innovation Awards competition will be donated to the Atlanta College and Career Academy (ACCA), an Atlanta-based technical high school.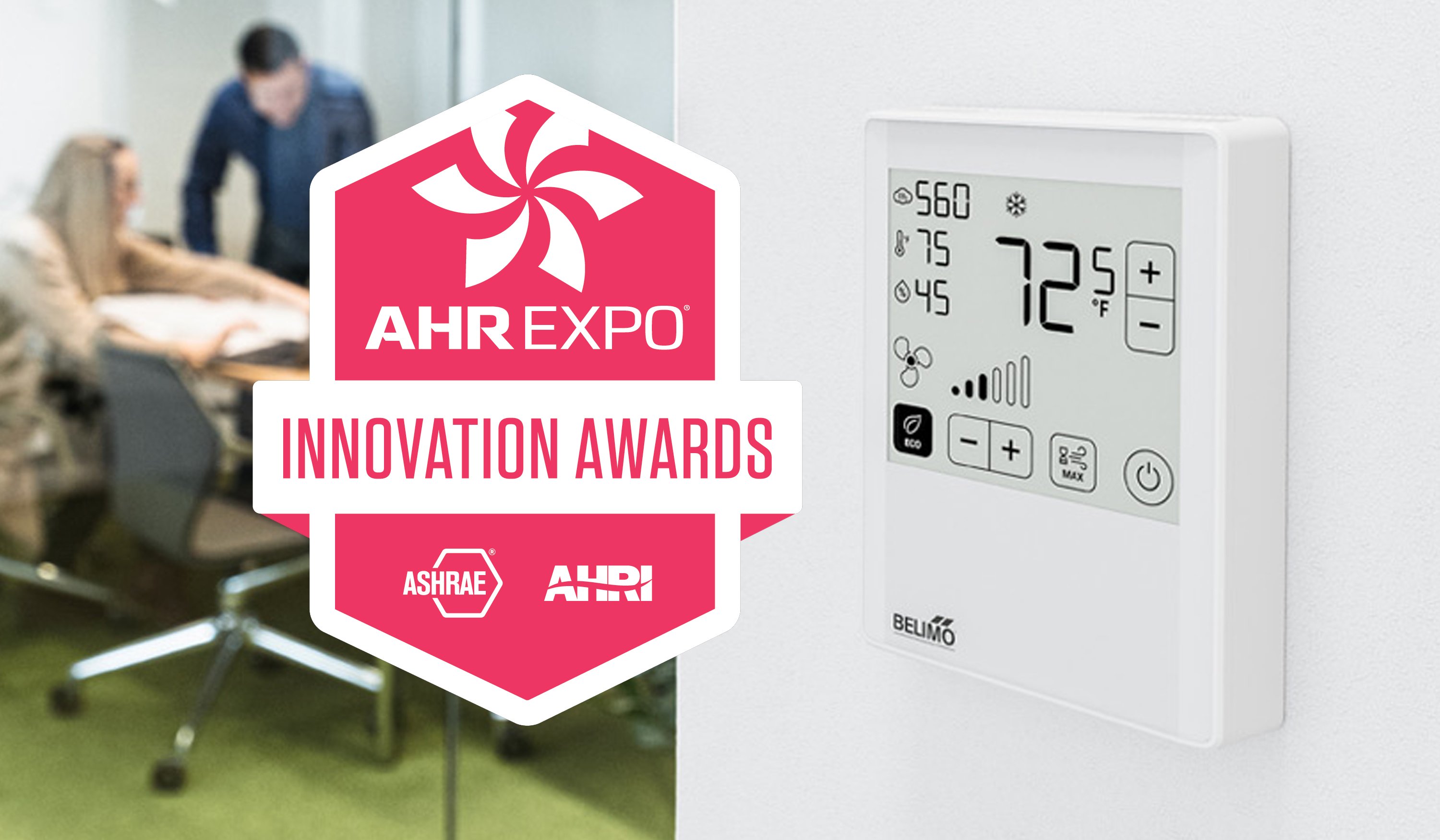 In the category of Indoor Air Quality, Belimo was awarded for their line of commercial room sensors, which are built to accurately measure temperature, humidity, dew point, and CO2. They can be specified with or without an ePaper touch display, depending on the needs of the application. The room sensors also feature Near Field Communication (NFC) functionality, which allows for quick and easy adjustment in the field, as well as remote display capabilities, commissioning, and troubleshooting — even without power. When used without a touch display, the Belimo Room Sensor Display App is an innovative and convenient way to access Belimo room sensors. This app intuitively illustrates current room values and enables setpoints to be adjusted. An optional four-digit access code prevents input from unauthorized individuals, ensuring that third parties will not be able to access critical data through NFC. Belimo room sensors are maintenance-free and provide reliable operation for a comfortable and safe room environment over the long-term.



Copeland Compressors and Condensing Units won in the Heating category for the ZPSK7 scroll compressor. The Copeland ZPSK7 is available in 1.5 to 5-ton two-stage models and is designed for residential and light commercial HVAC applications. If a partial load is required, bypass ports in the compression chamber open, which will partially unload the compressor. When open, the bypass ports allow the compressor to reach 65% capacity, ensuring less energy consumption at light loads, and helping to avoid stops and starts, which use more energy. A modulation control valve is activated when demand increases, sealing the bypass, and enlarging capacity to 100%. The ZPSK7 can run at lower capacity without stopping, allowing air to continue flowing over the filter and the coil. In the Cooling category, Chemours was awarded for the Opteon XL41 refrigerant, which is designed to be a replacement for R-410A in air conditioning and scroll chiller systems, particularly in residential and light commercial settings. It is a non-zone depleting substance with a low global warming potential, providing a 78% reduction in GWP compared to R-410A. It is compatible with all existing R-410A applications and lubricants, which will significantly reduce redesign efforts for OEMs, and limit retraining for technicians working in the field. Opteon XL41 aims to maximize the benefits of transitioning to hydrofluoroolefin refrigerants while minimizing the impact on the industry.
Emerson's Retail Solutions division won in the Refrigeration category for its Copeland ZFW variable speed scroll solution, which uses brushless permanent magnet motors and variable frequency drives in low-temperature stationary refrigeration systems. The variable speed scroll provides improved efficiency, precision, flexibility and reliability, and the Copeland variable frequency drives complement the Emerson compressors and controls. It has twice the capacity of a fixed-speed compressor of the same size, and it provides a 20-30% improvement in efficiency. Offering impressive control, while also reducing cycling rates and improving reliability, the ZFW features vapor injection technology and a speed range of 1,000-7,000 rpm. Designed for use with new Copeland EVM variable frequency drives, this combination promises to offer cutting-edge levels of performance.

In the Ventilation category, SmartD Technologies won an award for their SmartD Clean Power Variable Frequency Drive. SmartD's Clean Power VFD produces a clean, sinusoidal signal that reduces motor system losses by up to 40%, helping to extend motor lifetime. It features a compact footprint, and it can be deployed without the use of ancillary filters. The SmartD VFD uses wide-bandgap semiconductors in its multi-level inverter architecture, combined with SmartD's patented modulation algorithms to generate a pure-sine wave electrical signal. Wide-bandgap semiconductors have inherent characteristics that give them increased efficiency— on-state losses are generally 10-80% lower and switching losses can be 9 to 30 times lower than standard IGBTs.

In Plumbing, Caleffi Hydronic Solutions took home the award for the Caleffi 536 Series PresCal HP Piston-type Pressure Reducing Valve. The only direct-acting pressure regulating valve in North America that incorporates true piston operation, the PresCal HP family is designed to ensure stable, high-precision water pressure control while withstanding severe inlet pressure or heavy downstream water. It is suitable for applications that require staged pressure control, or that need to handle significant pressure fluctuations. Unlike traditional pressure reducing valves that use a rubber diaphragm to separate the high- and low-pressure chambers, the PresCal HP uses a durable piston design. The high-range model can be used as the first stage in a two-stage system, while the low-range model can be used as the second stage or as a standalone PRV for handling high pressure spikes.

In the Tools & Instruments category, NAVAC Inc. won for their NEF6LM BreakFree Power Flaring Tool. The NEF6LM BreakFree Power Flaring Tool is designed to provide accurate, hassle-free tubing flares in less time than it would take using traditional flaring techniques. Built to perform reliably in harsh conditions, the NEF6LM can operated using just one button, and just one hand. The tool comes with a high-performance rechargeable battery that can deliver over 100 flares per charge. The BreakFree Power Flaring Tool is designed to provide fully automatic flaring operation, while still providing high quality flares. This improves the efficiency and accuracy of the tubing work and reduces refrigerant leaks in HVAC system.

In the Software category, cove.tool won for their loadmodeling.tool. Built for mechanical engineers, the loadmodeling.tool is made to quickly and automatically establish peak cooling and heating loads to aid in designing HVAC mechanical systems using the EnergyPlus engine. The loadmodeling.tool is web-based, which presents added convenience for mechanical engineers, as the majority of their software tools have traditionally only been available on desktop platforms.

For the award in Building Automation, Cielo WiGle Inc. won for the Cielo Breez Max, a smart thermostat for mini-split windows and portable air conditioners. With an AI-based detection engine designed to determine AC type and model number, the Breez Max is backed by the AWS cloud, and is compatible with any brand or type of ductless air conditioner. It can be powered via 5V adapter, or it can be hard-wired using 12/18/24 volts AC, or run on 12/18/24 volts DC. The Cielo Breez Max is protected with TLS1.2 encryption to ensure that data is transferred safely and securely over the network. Max is compatible with Amazon Alexa, Google Home, SmartThings, IFTTT and Siri shortcuts.

The winner in the Sustainable Solutions category was Taco Comfort Solutions for their System M heat pump. The System M is an inverter-driven outdoor heat pump system that is up to 4x more efficient than a gas furnace. The outdoor heat pump integrates with Taco's indoor HydroBox to provide a complete system with just six pipe connections. System M is an air-to-water heat pump system that is designed to provide comfortable, efficient heating, cooling, and a healthy supply of domestic hot water. Built to be to be a "true plug-n-play appliance," its packaged design makes installation less invasive, with no refrigerant or gas lines required. System M integrates with many high-efficiency heating and cooling systems and can be used in both new and existing HVAC systems.

Free registration for the 2023 AHR Expo is available through February 4, 2023 at ahrexpo.com.