Butterfly valves
are fundamental components in hydronic systems. Unfortunately, most butterfly valves are less than ideal – they leak, their running times are not optimized for HVAC applications, they're heavy, it's hard to access wiring, and they cannot be put into operation quickly.
The new Belimo technologically advanced butterfly valve is the exception. Belimo Americas releases a technologically advanced butterfly valve designed specifically for the Heating, Ventilation, and Air Conditioning industry. The newly designed butterfly valve and actuator assembly is the most intelligent, energy efficient, and reliable high flow solution in the HVAC market. With a focus on ease of installation, application flexibility, and longevity, this series sets new performance standards.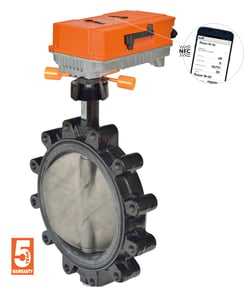 Saves energy with up to 80% less power consumption than currently available solutions
Patent pending, self-adjusting end stop logic ensures zero leakage at 200 psi close-off.

Industry leading fail-safe function and universal power supply input 24-240 VAC / 24-125 VDC requires only one actuator type which eases planning and increases flexibility for all applications

Easy troubleshooting with its unique position indicator viewable from long distances and any angle
Simplified setup, diagnostics and superior application data accesswith BACnet and Near Field Communication built-in
"The Belimo advanced butterfly valve offering is truly innovative", states Kurt Narus, Product Manager. "Our customers will now have a butterfly valve with a fail-safe option, universal power supply, and secure close-off for the life of the valve – all industry firsts!"
The resilient seated butterfly valves are designed to meet the needs of HVAC and commercial applications requiring zero leakage. The large Cv values provide an economical control valve solution for larger flow applications used in ANSI flanged piping systems. Typical applications include chiller and boiler isolation, primary bypass flow control, cooling tower isolation, large air handler coil control, and process control heat exchanger applications.
The most intelligent butterfly valve on the market, learn more online, download product flyer or butterfly valve product guide and price list.