The ZTH US is a simple diagnostics and testing tool used with Belimo actuators offering a series of powerful diagnostic functionalities: function test, position preset, test setpoint /actual value, test damper and valve position and verify flow. The ZTH tool eases system maintenance and achieves maximum operational reliability.
The ZTH directly connects to the Belimo Multi-Function Technology (MFT) series actuator offers you access to the MFT parameters. MFT is a programmable actuator that allows you to create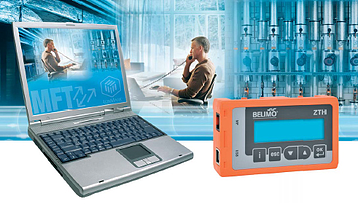 custom solutions for individual applications. If you need a particular control or feedback signal, or need to change running speeds, MFT is the answer. It comes standard as a 2 to 10 VDC proportional control but can be reprogrammed on-site. You can modify voltage control, time proportional control, floating point, on/off and feedback signals too. In addition, MFT makes it easy to set parameters for running time, mechanical working range, address, status and diagnostics.
The ZTH also allows users to connect the actuator to their personal computer when using the Belimo PC-Tool software. Connecting to the PC-Tool software enables you to customize the actuator, conduct functional tests and provides the ability to chart trends and operations.